Israel-Gaza crisis: UK minister in Mid-East for talks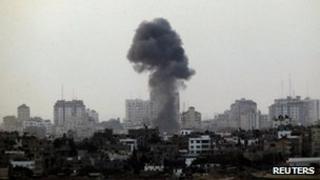 UK Foreign Office Minister Alistair Burt has arrived in the Middle East to meet senior Israeli and Palestinian figures amid the escalating violence.
During his three-day visit to Israel and the Gaza Strip, he will discuss how to end the violence that has led to civilians casualties on both sides.
He will also be briefed by the UN and other organisations on the humanitarian situation in Gaza, where Hamas says more than 100 people have been killed.
Mr Burt said he was gravely concerned.
At least 105 people have died in the Gaza Strip in six days of violence, Hamas officials say, as Israeli forces continue a bombardment they say aims to stop rocket attacks into Israel.
'Terrible suffering'
Monday's fatalities included a commander of the Islamic Jihad militant group.
More than 100 rockets were fired on Israel by militants on Monday, but no casualties were reported.
On Monday, Mr Burt, Minister for the Middle East, visited a family bereaved by a rocket attack that killed three Israelis in Kiryat Malachi, in southern Israel, last week.
He said: "I am gravely concerned about the current crisis, particularly the loss of civilian life on both sides.
"Today I have seen for myself the impact of this conflict, and the terrible toll and suffering it is inflicting on families and communities across Israel. Coming here has given me a sense of what life is like for people under attack, and the appalling devastation that rocket attacks bring.
"The people in villages, towns and cities across Israel have the right to live without the constant fear of rocket attacks. I look forward to speaking [on Tuesday] to [Palestinian] President Abbas to discuss the human impact of the conflict in Gaza, where rising numbers of civilian casualties are a real cause for concern".
Meanwhile, UK Foreign Secretary William Hague said moves by Egypt to try to broker a ceasefire had helped to prevent an Israeli ground attack on Gaza so far. The content of the Egyptian plan is not known, but both Israel and Hamas have presented conditions.
Speaking after talks in Brussels with EU foreign ministers, Mr Hague said: "I am pleased that Israel has held back from a ground invasion while such negotiations go on, and that the rate of rocket attacks on Israel has fallen, for whatever reason, over the last 24 hours.
"These are positive developments but of course it remains a desperately serious and difficult situation".
'Utterly tragic'
Former UK Prime Minister Tony Blair, now an international envoy to the Middle East, has also been talking to Israeli and Palestinian leaders to try to resolve the crisis.
He said: "The most important thing is to get a ceasefire in place, de-escalate the situation and then at least you've got a chance to try and work on what are the two crucial issues for the long-term.
"One is to make sure that there aren't further armaments coming into Gaza, because that is what is giving rise to the current situation, and secondly to try an bring about some normality in the lives of Gazan people.
"And the present situation is utterly tragic. There are innocent civilians dying and it's a situation that we've got to try and bring to a stop as soon as possible but it's only going to stop if all hostilities cease."
At the weekend, UK Prime Minister David Cameron urged Israeli counterpart Benjamin Netanyahu to do "everything possible" to end the crisis in Gaza.
A Downing Street spokeswoman said Mr Cameron also "expressed concern" that the current trading of missile fire might turn into a ground war.
Labour urged UN Secretary General Ban Ki-moon to visit the region to talk to all parties to find a solution.