Asylum lawyers warned over disclosure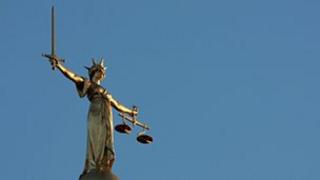 Lawyers could be disciplined for not disclosing "all material facts" in legal bids to halt removal of asylum seekers, a senior judge has said.
Even facts undermining applications must be revealed, said Sir John Thomas, President of the Queen's Bench Division of the High Court of Justice.
Sir John's ruling named solicitors responsible for "very grave failures" of disclosure in three cases.
All the solicitors involved have apologised.
Sir John said he believed that if the lawyers in all three cases had outlined "the true points against the grant of an injunction", the applications would not have been made as it would have been obvious they would not succeed.
In his ruling, Sir John said it was "deeply regrettable" that in each of the three cases there had been grave failures to comply with the long-standing principle of full disclosure.
The failures included judges not being told that other courts and tribunals had dismissed previous similar applications, while case histories had also not been presented accurately.
While the lawyers have been named, no further action is to be taken against them.
But Sir John said: "That will be the last time this court will, unless there are strong mitigating circumstances, fail to refer people to the Solicitors Regulation Authority for a breach of these very high duties to the court."
Obligations
The problem involves legal representatives making "ex parte" applications, with only one side represented, to High Court judges with the aim of keeping failed asylum claimants in the UK pending fresh legal challenges.
Judges are concerned that this kind of application is being made in increasing numbers.
Sir John was commenting on three cases: of "N", an asylum seeker represented by V Nwosu, from the firm Dylan Conrad Kreolle; Murugesapillai, represented by S Sathananthan, of S Satha & Co; and Hamid, represented by M Hassan of MQ Hassan Solicitors.
In the appeal application of "N", a Ugandan asylum seeker who cannot be named for legal reasons, her lawyers did not disclose the fact her evidence had been considered not credible by the immigration judge who rejected her claim for asylum.
The asylum bid of Murugesapillai, a Tamil from Sri Lanka who arrived on a student visa in September 2010, was refused by the home secretary and his appeal refused by a tribunal that did not believe his claim.
But in a subsequent judicial review application to prevent Murugesapillai being flown out of the UK, his lawyers did not disclose that his evidence had been rejected as "not credible", nor that permission to appeal had been denied so there was no pending appeal justifying an injunction.
Sir John, who considered all three cases with Mr Justice Cranston at London's High Court, said the case of Hamid had been rejected by one judge but came back on a re-application before a different judge "on virtually the same points".
The new application "contained no disclosure whatsoever of the previous application and its failure".
The judge added that all the solicitors had accepted "that there rests upon an advocate or other officer of the court the highest obligations of disclosure when making an application to the court for ex parte (or without notice) relief".
A UK Border agency spokesperson said: "These applications can be used to frustrate the system and delay removal. We would welcome any action which can help ensure cases are resolved swiftly and efficiently."