Higher council tax bands reports dismissed by No 10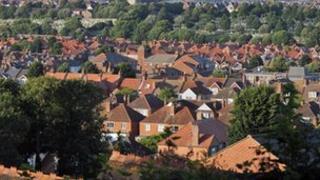 Downing Street has dismissed speculation that new council tax bands will be introduced to recoup more revenue from the wealthiest homeowners.
It follows reports the government was considering additional bands for homes valued over £1m, £1.2m and £2m.
Chancellor George Osborne was said to have agreed to Lib Dem demands in return for a freezing of benefits.
But the prime minister's spokeswoman said there were no plans for any new council tax bands.
On Sunday, Business Secretary Vince Cable said talks were taking place within government about raising revenue based on property values.
An increase in either stamp duty or capital gains tax are other possibilities if the council tax option is ruled out.
An announcement would be expected in the chancellor's Autumn Statement on 5 December, Mr Cable said.
'Greatest burden'
The PM's spokeswoman said: "The chancellor will be looking at all these issues in the Autumn Statement.
"As a point of principle, we have made it clear that those with the broadest shoulders should bear the greatest burden.
"We don't think that people who have worked hard and saved up to buy a home should be hit with a mansion tax.
"We have no plans to introduce new council tax bands either. We have ruled out a council tax revaluation in this Parliament."
Mr Cable told BBC One's The Andrew Marr Show that property taxes were "the obvious place to go" if the government wanted to tax wealth.
"There needs to be a sense of fairness, and these best-off people in society have got to contribute more," he said.
"There are arguments around taxation, about property taxation. It'll all be resolved in the next few weeks.
"But certainly, the principle is right that the top of society, the best-off, have got to pay more."
The current highest council tax band, band H, applies to properties that were valued at more than £320,000 in 1991.