BBC crisis: Lord McAlpine seeks larger ITV damages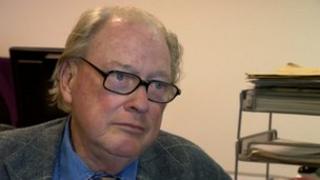 Lord McAlpine will seek a larger payout from ITV than the £185,000 he received over his libel claim against the BBC, his lawyers have confirmed.
They contacted ITV after presenter Phillip Schofield handed the prime minister a list of alleged abusers live on the This Morning show on 8 November.
ITV said disciplinary action had been taken following the incident.
The BBC settled with Lord McAlpine over a Newsnight report that led to him being wrongly accused of child abuse.
The damages, agreed 13 days after the broadcast, totalled £185,000 plus costs.
Broadcasting watchdog Ofcom has launched an investigation into the incident on ITV1's This Morning.
An ITV spokesman said: "We have received correspondence from Lord McAlpine's representatives and we will be responding in due course."
Comedian Alan Davies has apologised to Lord McAlpine for naming him on Twitter in relation to the allegations.
Davies tweeted: "I've just written to Lord McAlpine to apologise for retweeting his name in relation to false allegations following a BBC investigation."
Programme inquiry
The BBC and ITV are the first of a number of organisations and individuals to face legal action after Lord McAlpine was wrongly linked to child abuse. These include a large number of Twitter users who made false claims.
The Newsnight broadcast on 2 November was about historical allegations of child abuse at care homes in north Wales.
Former Tory party treasurer Lord McAlpine was not named in the broadcast but he was incorrectly linked to the claims on the internet.
An inquiry by BBC Scotland director Ken MacQuarrie concluded that Newsnight had failed to complete "basic journalistic checks".
Lord McAlpine said after settling his claim with the BBC: "I have been conscious that any settlement will be paid by the licence fee-payers, and have taken that into account in reaching agreement with the BBC.
"We will now be continuing to seek settlements from other organisations that have published defamatory remarks and individuals who have used Twitter to defame me."
The Newsnight broadcast led to the resignation of BBC director general George Entwistle, who has been replaced by acting director general Tim Davie. The BBC has previously apologised for the broadcast.