Newspaper review: Gaza crisis photos lead front pages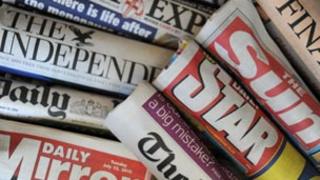 Pictures of Israel's aerial bombardment of Gaza and casualties dominate several of the front pages, as speculation mounts about a possible ground offensive.
The Independent headline reads: "Gaza counts its dead as Israel plans ground invasion". The text is accompanied by a photograph of a man kissing the hand of a dead relative in a Gaza city hospital.
The Financial Times says Israel is facing world pressure not to launch an invasion.
Meanwhile, an un-named senior Israeli military official tells the Times that Israel has gone as far as it can with air strikes: "The next step is go in, or go home."
'Powder-blue suit'
As Prime Minister David Cameron prepares for a European Union summit later this week to draw up the EU's budget for the next seven years, the Financial Times leads with a report that EU officials have begun work on a plan to leave Britain out of any deal.
It says the move reflects mounting frustration that Britain's demand for a freeze cannot be reconciled with most other countries, who are pushing for an increase.
But the Mayor of London, Boris Johnson, urges Mr Cameron not to back down and to emulate Margaret Thatcher's tough approach.
He writes in his Telegraph column: "It is time for David Cameron to put on that pineapple-coloured wig and powder-blue suit, whirl his handbag round his head and bring it crashing to the table with the words, 'No, non, nein', until they get the message".
The Daily Mail leads on figures from police forces which suggest that children as young as 10 are being arrested on suspicion of rape, amid fears that online pornography is twisting their view of sex and relationships.
Some 24 forces arrested children under 13-years-old for suspected rape in the past year while seven detained at least one 10-year-old.
It says the figures highlight growing concerns at the influence of online pornography on impressionable young minds.
Police privacy
The main story for the Times is that Scotland Yard is making a bid for secrecy over legal claims by female activists, who say they were tricked into sexual relationships with undercover officers.
It says damages for emotional trauma by 11 women and one man have been lodged at the High Court, but the Metropolitan Police is to argue that some of the cases should be considered by a secretive tribunal.
A Guardian study suggests that Britain is experiencing a "nutritional" recession. Rising food prices and shrinking incomes are driving people to an increasingly unhealthy diet, the research suggests.
A number of papers report that lawyers for the Conservative peer, Lord McAlpine, are demanding that ITV pays more in libel damages than the BBC over the false claims linking him to child sex abuse. He accepted £185,000 plus costs from the BBC last week.
The Times reports that Lord McAlpine restricted the demand for compensation from the BBC because he was conscious that licence payers' money was involved.
Finally, the Sun puts pressure on Mr Cameron to stand firm over voting rights for prisoners.
The issue will be debated in the Commons again this week, a day before the deadline for Britain to comply with a European Court of Human Rights ruling stating that the blanket ban is unlawful.