David Cameron urges Israel to end Gaza crisis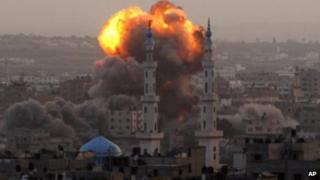 Prime Minister David Cameron has urged Israel's Prime Minister Benjamin Netanyahu to do "everything possible" to end the crisis in Gaza.
In a phone call with the Israeli PM, Mr Cameron also expressed sympathy for the "unacceptable rocket attacks" Israel has suffered from militants.
At least 67 Palestinians and three Israelis have now been killed.
As attempts are made to broker a ceasefire, Mr Netanyahu said Israel was ready to expand its operation.
The BBC's Paul Danahar arrived at the scene of the air strike on the Hamas official's home north of Gaza City to see diggers trying to scoop rubble from flattened buildings and with rescuers frantically trying to find survivors.
He says the man targeted was Mohamed Dalou. Hamas said eight members of his family also died, including a number of children, along with two other people.
The Israel Defense Forces (IDF) said 76 missiles fired from Gaza had hit Israel on Sunday, while 37 were intercepted by its Iron Dome missile defence system, including at least one over Tel Aviv.
The Israeli ambulance service reported two people were seriously injured, with 10 moderately or lightly hurt.
The Foreign Secretary William Hague said Israel risked losing international sympathy if it repeated the ground invasion of January 2009, but he repeated his insistence that Hamas bore "principal responsibility" for the violence.
Earlier Mr Hague told Sky News: "We really need the US to show strong leadership in the peace process that, alone in the world, can really get the parties together."
An Israeli air strike killed Hamas military chief Ahmed Said Khalil al-Jabari and another official in the Gaza Strip on Wednesday.
This air strike followed a wave of rocket attacks into Israel from the territory.
A Downing Street spokeswoman said Mr Cameron also "expressed concern" that the current trading of missile fire might turn into a ground war.
"The prime minister expressed his sympathy for the unacceptable rocket attacks that Israel continued to suffer.
"He also expressed concern over the risk of the conflict escalating further and the danger of further civilian casualties on both sides.
"The prime minister said that the UK was putting pressure on both sides to de-escalate and urged Prime Minister Netanyahu to do everything possible to bring the conflict to an end," she added.
Labour has urged UN Secretary General Ban Ki-moon to visit the region this week to talk to all parties to find a solution.
Shadow foreign secretary Douglas Alexander told BBC One's The Andrew Marr Show there was "no military solution to the Israeli-Palestinian conflict - there needs to be a willingness for the violence to end and the talking to begin".
"If you look back over the last 30 or 40 years, the real breakthroughs have come when the parties themselves want to see that negotiated two-state solution."
He said there was "a heavy burden of responsibility" on both sides "to evidence a commitment" to finding a solution.
He added: "We've made very clear our view that the barrage of rockets onto Israel is an intolerable situation for Israelis."
Israel has been shelling Gaza from the sea and air on the fifth day of its bombardment of the coastal territory.
Two media buildings were hit, including one housing offices of Hamas TV as well as Britain's Sky and ITN. Several Palestinian journalists were injured.
The Israeli army said eight rockets had been fired from Gaza since midnight, three of which hit Israeli territory.
Israel is ready to "significantly expand" its operation in Gaza, Mr Netanyahu has said.
The Arab League has held an emergency meeting in the Egyptian capital Cairo, and announced it would send a delegation to Gaza in the coming days.
Meanwhile, Egypt's President Mohammed Mursi said he had contacted both the Israelis and Palestinians.
During a meeting with Turkish Prime Minister Recep Tayyip Erdogan, President Mursi said there were "some indications" a truce could be reached but there were "no guarantees".