French Alps shooting: Prosecutor still baffled by motive for al-Hilli murders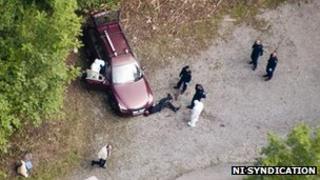 The prosecutor probing the deaths of three members of a British family in the French Alps has told the BBC there is "still no motive" for the killings.
Eric Maillaud said all lines of inquiry into the deaths of Saad al-Hilli, his wife Iqbal, her mother Suhaila al-Allaf and a French cyclist "remain open".
Sixty officers from the gendarmerie are working on the Annecy inquiry, which spans several countries.
Mr al-Hilli's daughters Zainab and Zeena survived September's shooting.
Two months on, the police continue the hunt for answers.
Mr Maillaud told me: "We are further than day one, but still no motive.
"When I have the motive, then I'll have my suspect. But for now, all lines of inquiry remain open."
Officers are working around the clock on the case, but it is a hugely complex inquiry.
It spans several countries; France, Switzerland, Italy, the UK, Sweden and Spain, where Mr al-Hilli's father had an apartment.
Statements have been taken from about 800 witnesses, thousands of hours of film and images from the toll booths and roadside cameras have to be analysed, and of course, there is the forensic evidence.
Mr Maillaud added: "Without doubt we are looking for someone who has killed before, someone who puts no value on human life.
"We are not sure whether that means it's a professional hit but if it was done on a contract it was very badly done."
There is also a working hypothesis on how the events unfolded, though Mr Maillaud would confirm only scant detail.
It appears Zainab and her father were outside the car when the gunman approached, firing, from the forest trail above them.
The French cyclist Sylvain Mollier was already at the lay-by or at least close by.
In the panic Mr al-Hilli bolted for his car. He reversed in a U-turn at such speed that perhaps he ran over the fallen Mr Mollier.
The car slammed into the bank at the rear of the lay-by where the axle became stuck.
And the rest we know. Saad, his wife Iqbal, his mother-in-law Suhaila and the cyclist were shot at least twice at close range.
The police have ruled out the idea that Mr Mollier was the target.
"We are 99% sure he was nothing to do with it," Mr Maillaud said.
'Unbalanced people'
Police continue to investigate Mr al-Hilli's background. There is a reported dispute with his brother over their father's inheritance and links to Iraq.
But the bank account traced in Geneva is not thought to be significant, nor indeed the Taser gun reportedly found at Mr al-Hilli's home in Claygate, Surrey.
If there was a secret in the engineer's background it remains just that, which is why another theory is now being advanced.
Mr Maillaud said: "We are looking for unbalanced people - capable of extreme violence.
"People who have access to weapons; hunters, collectors, shooting club members, some of whom could have had psychiatric problems.
"We are searching a huge area stretching into Switzerland and Italy - and that includes a large number of people."
There was no DNA at the scene. So perhaps the weapon, as the only real clue, becomes even more significant.
The shell casings suggest the handgun was an antique. One report said the forensic teams had found tiny shards of the weapon's handle.
Mr Maillaud refused to comment on the gun. But it is thought to be a Luger, an early model issued to the Swiss army before World War I, a collector's item.
Alain Fracheboud, a gun shop owner in Geneva, told me that if it is proved to be the weapon used it is "a bizarre choice for a professional killer".
He said: "The clip only holds eight rounds which would mean the gunman had to reload at least twice.
"It's quite an accurate weapon from 50m but a trained killer would be more likely to use something like [a Glock], a weapon that holds 15 rounds. Far more effective, cheaper, more readily available."
Certainly the Luger is an unusual item but more common to Switzerland where ex-army personnel were allowed to retain their weapons.
'Owe them answers'
Mr Maillaud, like any prosecutor, has his professional pride. He is angry at the leaks, and at some of the reporting.
He is sympathetic to the frustrations of the family: "It is the first obligation of any inquiry to eliminate the immediate family," he says.
His main responsibility is to the daughters who survived. Clearly that is a responsibility that weighs heavily.
"We owe them the answers, that is why I am careful what we reveal," Mr Maillaud says.
"I don't want to have to tell these two girls, who have suffered so much, that we failed in our investigations because we talked too much."
The al-Hillis loved Annecy and it is the last kind of place you would expect to encounter the deranged killer Mr Maillaud describes.
But two months on perhaps there is no other explanation. Maybe there was no motive.
Maybe it was a savage, but entirely random act of murder.