Newspaper review: Papers scathing on police elections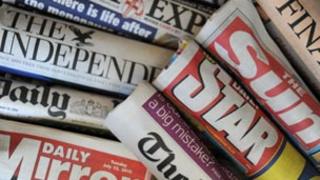 The Daily Telegraph says Thursday's elections for new police and crime commissioners appear to have descended into farce - after an abysmal turnout.
The paper says voters were so few that electoral staff were left twiddling their thumbs, doing puzzles and even knitting to pass the time.
The Times speaks of a "lonely tableau" at one village hall in the Lake District, where officials waited two hours for their first voter.
The scene, it says, was mirrored across England and Wales. The Independent says the turnout could prove to be the lowest ever recorded in a peacetime national election.
Propaganda war
After the upsurge of violence in the Middle East, the Guardian says the black cloud of death hangs once more over Israel and Gaza.
The Times says the thunder of missiles and the wail of sirens could be heard as Israel bombarded Gaza, and Hamas militants retaliated with missiles aimed at Tel Aviv.
The Independent prints a photograph across its front page showing a grief-stricken father in Gaza holding the body of his baby son.
The Daily Express shows a family in southern Israel, taking shelter by the side of a road during a rocket attack.
The Daily Mirror warns of a bigger conflict. It says that one thing history has taught us is that shelling and rockets are part of the problem, not an answer to the strife.
The Independent says Twitter and other social networking sites have become the latest battleground for the propaganda war between Hamas and the Israeli army.
The Israeli Defence Force used Twitter to give details of the air strike that killed the Hamas military leader. Hamas later posted a running commentary on its rocket attacks on Israeli targets.
The paper says the use of social media by the key protagonists to make violent threats presents the big internet companies with an ethical dilemma.
Art sales
The Daily Mail devotes its front page and 10 inside pages to the results of a special investigation which, it claims, may have implications for the objectivity and neutrality of the Leveson Inquiry.
Among other things, the paper looks at the role of a senior adviser to the inquiry, Sir David Bell.
He is also a trustee of the Bureau of Investigative Journalism which contributed to the Newsnight report wrongly implicating Lord McAlpine in allegations of child abuse.
The Mail says it makes no apology for carrying out the investigation - though it knows it will be accused by its enemies of trying to pre-empt the outcome of the Leveson Inquiry.
Finally, the Daily Telegraph says that when the super-rich go shopping, it seems a painting by Rothko or a print by Warhol now top the list of must-haves.
The paper says auction houses in New York have seen an extraordinary week for contemporary art sales.
Buyers spent close to £500m on what one economist has called the Old Masters of the future.