Newspaper review: Papers focus on strikes by Israel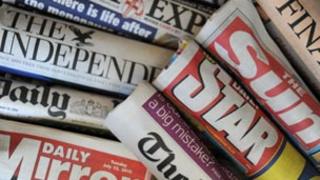 The burning, mangled car in which Hamas military chief Ahmed Said Khalil al-Jabari met his end is prominent on the front pages of the the Daily Telegraph and the Guardian.
His death marks a return to "the illegal assassinations of old" in the eyes of the Independent.
The Telegraph wonders about the timing of the Israeli air strike, just weeks before a general election.
Michael Binyon, in the Times, says the killing is "clearly calculated" to pre-empt what many Israelis expect to be new pressure on them from the Obama administration to revive peace talks with the Palestinians.
'Wear a tie'
The papers are not short of speculation as to who might be the next director general of the BBC.
The Independent says the BBC could approach Dame Marjorie Scardino, the departing chief executive of Pearson.
The Guardian says the prime candidate - the BBC's former chief operating officer Caroline Thomson - has ruled herself out.
The Times profiles the chief executive of the Royal Opera House and former BBC executive Tony Hall.
The one time head of news, now Lord Hall, is said to have "a love for the BBC in his bones".
The Daily Telegraph has fashion advice for any male candidate - wear a tie.
It reports on a viewer indignant at acting director general Tim Davie appearing with an open neck shirt - and emailing to tell him as much.
Mr Davie acted on the advice and added a blue tie to match his blue suit.
The paper marks the story with before and after pictures.
Greatest ever
There is little bleating over England's 4-2 football defeat to Sweden, only admiration for an incredible performance from Zlatan Ibrahimovic, scorer of all of Sweden's goals.
It was a "stunning masterclass" for the Guardian.
"Take Zlat" is the headline in the Daily Star, the Daily Mirror, the Sun and the Daily Mail.
The Daily Express goes with "Zlat trick", not letting a fourth goal get in the way of a good headline.
But it was his fourth that caused most astonishment.
The Mail describes "an unbelievable kick from 30 yards" and quotes former England manager Graham Taylor as saying: "That's the greatest goal I've ever seen."