Jimmy Savile scandal: Dame Janet Smith seeks witnesses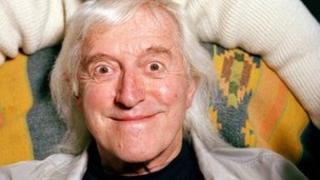 Dame Janet Smith, who is conducting an inquiry into allegations of sexual abuse by Jimmy Savile, has launched an appeal for witnesses.
A website has been set up giving contact details and listing groups which provide support for victims.
The Dame Janet Smith Review was set up last month by the BBC to conduct an independent review of the corporation's practices during the Savile era.
Police believe Savile may have abused 300 young people over a 40-year period.
Savile was a household name in the 1970s and 1980s as a Radio 1 DJ and presenter of the Jim'll Fix It show on BBC1.
But since his death last year details have emerged suggesting he was a paedophile who abused young people on BBC premises, in various care homes and even in Broadmoor psychiatric hospital.
Dame Janet's review is designed to "examine whether the BBC's culture and practices during those years enabled the sexual abuse of children to continue unchecked".
Part of her role is to obtain evidence from people who allege inappropriate sexual conduct on the part of Savile and investigate "whether BBC personnel knew or ought to have known of Savile's conduct".
The Dame Janet Smith Review website says it would like to hear from those who were the subject of inappropriate sexual conduct by the presenter on BBC premises or on location, and from those who were aware of or suspected such conduct.
It also seeks information from anyone who complained or raised concerns about Savile within the BBC, and from people familiar with its culture and practices, including those who held senior positions.
Dame Janet, a former appeal court judge, will also consider whether the BBC child protection and whistle-blowing policies are fit for purpose.
She previously led the Shipman Inquiry, which examined the activities of serial killer GP Dr Harold Shipman.
In a separate inquiry, former Sky News head Nick Pollard is already examining whether there were BBC management failings over a Newsnight investigation into Savile abuse claims that was shelved last year.
The former Director of Global News at the BBC, Richard Sambrook, has said the BBC was "very slow to spot the toxic nature of the (Savile) story".
He told BBC Radio 4's Media Show: "They thought this was about what a BBC contracted performer had done privately a long time ago and 'We'll let the police deal with it,' failing to realise it was actually about what may have occurred on the premises with BBC guests, for which they shared a responsibility.
"As soon as you have a major star who has appeared in lots of programmes accused of paedophilia on the premises it's not something you can say, 'Well that's just a matter for the police'."