Jury out in trial of UBS 'rogue' trader Kweku Adoboli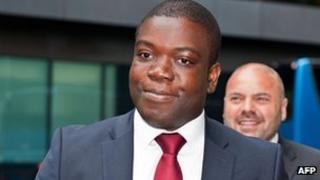 The jury has retired to consider its verdict in the trial of Kweku Adoboli, a City trader with Swiss bank UBS accused of a £1.4bn fraud.
Mr Adoboli, 32, of Whitechapel, east London, denies four charges of false accounting and two of fraud between October 2008 and September 2011.
Sasha Wass, for the prosecution, said he was "a gamble or two away from destroying Switzerland's largest bank".
But Mr Adoboli said he was encouraged to take risks by his bosses.
Mr Adoboli, who was arrested on 15 September 2011, has told the jury he had been asked to bring his "ability to understand the interaction of systems" to the Exchange Traded Funds (ETFs) desk when he joined as a junior trader in 2006.
'Bullish'
Mr Adoboli said he had "lost control in the maelstrom of the financial crisis", and was doing well until he changed from a conservative "bearish" position to an aggressive "bullish" stance under pressure from senior managers.
Describing the moment when he began to make serious losses as European markets crashed in July last year, he said: "The real problem was a result of the pressure to flip my position from short to long. This broke my control."
Giving evidence, Mr Adoboli said: "We were told you wouldn't know where the limit of the boundary was until you got a slap on the back of the wrist. We found that boundary, we found the edge, we fell off and I got arrested."
But Miss Wass said: "He did all of this by exceeding his trading limits, by inventing fictitious deals to conceal this and then he lied to his bosses.
"Mr Adoboli's motive for this behaviour was to increase his bonus, his status within the bank, his job prospects and of course his ego."