European strikes hit UK travel services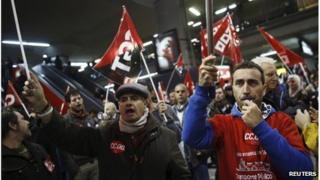 Dozens of flights to and from the UK are suffering delays and cancellations owing to a day of anti-austerity strikes and protests across Europe.
Airports including Heathrow, Gatwick, Aberdeen, Manchester and Newcastle have experienced cancellations.
Eurostar cancelled one London-Brussels train, but later said services were operating normally apart from disruption to trains beyond Brussels.
The European Trade Union Confederation has co-ordinated the day of action.
General strikes in Spain and Portugal halted transport, closed businesses and schools and led to clashes between police and protesters in Madrid.
Smaller strikes were reported in Greece, Italy and Belgium, as the Europe-wide day of action was due to involve 23 countries.
Some 39 flights - nearly all involving Spain or Portugal - were cancelled at London Heathrow Airport.
"Most people seem to have got the message that some flights were going to be axed and the terminals are operating smoothly," an airport spokeswoman said.
"Flight cancellations are never good news, but we do operate around 1,300 flights a day so the figure of 39 is a comparatively small one."
'Beyond our control'
After cancelling its 10:57 GMT London to Brussels service, Eurostar had said it hoped to accommodate affected passengers on the service a couple of hours later.
By Wednesday afternoon, the company's website said: "Eurostar is currently operating normally, however onward railway connections and local train services beyond Brussels are likely to be disrupted."
Services between and London and Paris had continued normally.
Portuguese airline TAP cancelled a number of flights between London and Lisbon, Porto and Madeira, as well as one Lisbon-Manchester service. A service arriving from and returning to Brussels out of Newcastle airport was also cancelled on Wednesday morning.
There were delays to some Easyjet flights, including a London-to-Greece service that departed three hours and 40 minutes late.
The airline said: "We are proactively trying to minimise disruption. However, we would like to warn customers that they could experience delays to their travel plans."
British Airways said customers on Spain flights on Wednesday could re-book free of charge, while there would be full refunds for cancellations.
"We are also looking at putting on larger aircraft to help as many customers as possible," the airline added.
"We are advising customers to check ba.com for the latest flight information. We apologise to our customers for any inconvenience caused by industrial action, which is beyond our control."
Unions in Spain and Portugal started strikes at midnight to protest against austerity measures that have combined tax rises with cuts in salaries, pensions, benefits and social services.
The protests have led to outbreaks of violence in several Spanish cities.
In Greece, the strike action is the third major walkout in two months.