Will you vote for the police and crime commissioners?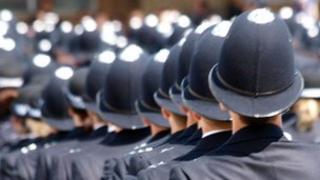 Thursday's election of police and crime commissioners elections in England and Wales has the whiff of a story where the headline is written: Will it be the no-show low turnout election that nobody understands nor wants?
But why should you vote? Does it really matter if you don't? Policing minister Damian Green says it does.
I met him shortly before election rules kicked in, which restrict what ministers can do and say about impending polls. I asked him for his best pitch to the voters who simply don't get what it's all about.
"Crime and Policing is a hugely important issue to everyone," he said. "For the first time ever, people will have a chance to vote on a range of offers about who should hold the police in their area to account.
"The person being elected the PCC won't be the chief constable running the police, but will be there as the voice of the people to hold the police to account.
"They will have to justify themselves on a continuous basis. They will be very important and powerful figures in everyone's local community and that's why people should vote."
But don't chief constables do all that fairly well already?
"Some people will be satisfied with their local police," said Mr Green.
"But there isn't a single organisation in the world that isn't improved by having proper scrutiny.
"Having an elected person there will be a much more powerful voice for the public. If you don't vote, then don't complain afterwards because you have had the chance to express your views."
But what if you still don't want to vote because you don't think it will work? Hugh Orde, the president of the Association of Chief Police Officers has warned of tension between top cops and the PCCs.
Damian Green's answer is that a good PCC will basically be someone who's an efficient bureaucrat - good at managing large organisations and the conflicts within them.
"I think the ideal relationship [between PCCs and chiefs] will be supportive but challenging," he said.
"The chief constables that I have spoken to say that the biggest danger is becoming too cosy, rather than becoming too challenging."
Uncovering cover-ups
Critics may dismiss that answer as away-day workshop speak - but supporters of the shift to PCCs say elected commissioners could prevent police forces from closing ranks when they need to admit to their mistakes.
There's no better example than the deaths at Hillsborough, given that some of the officers involved in the tragedy could yet face criminal investigation over a cover-up.
"One of the huge advantages of the PCCs will be a massive increase in transparency of all police operations because instantly there will be one person whose whole job is to ask what happened when something went wrong," said Damian Green.
"They themselves will have to face the people in an election at some stage and therefore will have had to investigate and reveal and, most importantly if something goes wrong, change the system so that it does not happen again.
"Every institution has had to become more transparent. We live in an age when it is much more difficult to keep secrets. Politics, journalism and banking are changing rapidly - so now must the police."
Ultimately, it is going to come down to the quality of the candidates chosen by the voters. Party machines are out there trying to mobilise their voters but there are also some high-profile independent candidates who are in with a shout, despite their complaints of a lack of official funding for a mail shot.
Others will struggle to make any impact - and some stand to lose the whopping £5,000 candidate deposit because they must achieve 5% of the first preference vote.
But in some areas it hasn't stopped them from standing anyway. Ministers will no doubt be cheered that Devon and Cornwall's voters have 10 candidates to choose from - the highest tally of any force area. Yet next door in Avon and Somerset, there are only four candidates.
Most candidate literature repeats familiar refrains; they pledge to cut red tape, put the victims at the heart of the system and protect the front line.
But when it comes to policies, there are some real differences out there - once you cut through the key bullet points which look very similar from candidate to candidate.
Some candidates want to press on with more privatisation of back office roles. Others oppose that kind of thing entirely. Then there are candidates who want voters to stump up more to pay for the police, to offset cuts from central government.
The only thing that is clear is that the national policing picture will be far from uniform in years to come - with PCCs finding their own ways to do things, potentially at odds with the way ministers would like them to do it.
But what's the measure of success for PCCs? What happens if the turnout is lower than that for the European Parliament - below 40% in the UK at every election?
"Success will be better policing, more transparent and accountable policing that results in crime being fought and reduced in ways that individual local communities recognise," said Damian Green. "What matters is reduction in crime."