Smoking e-cigarettes at work ignites row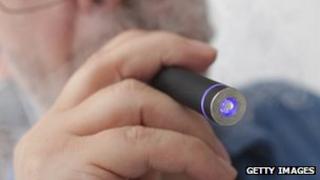 If the person next to you at work started using a cigarette at their desk, would you challenge them?
Employers could be forgiven for thinking it is an issue that belongs to a bygone era.
But the rise in popularity of electronic cigarettes is leaving businesses with something of a dilemma: it does not break the law, but should it be allowed?
Workplaces across the UK are starting to ban staff from using them, including NHS Fife and Blackburn College in Lancashire.
Sales of e-cigarettes, battery-powered sticks that release a hit of nicotine when inhaled, have soared in the past decade.
They have been widely available since 2006 and an estimated 650,000 people in the UK are now using them, according to the Electronic Cigarette Consumer Association.
They do not give off smoke and contain no tobacco. Some airlines sell them on-board planes and allow passengers to use them in flight.
But in Australia, Canada, Denmark, Israel, Singapore and Uruguay they are either banned, heavily regulated, or subject to government health advisories.
'Wrong message'
Now employers in the UK are having to grapple with this potentially divisive issue.
A spokesperson for NHS Fife, which has banned staff from using them at work, said: "Potential fire and safety risks have been identified.
"The heating element provides a source of ignition similar to a traditional cigarette which could ignite bedding or clothing."
The House of Commons authorities said electronic cigarettes are not permitted there, under the same rule that forbids smoking.
Dr Vivienne Nathanson, head of science and ethics at the British Medical Association, says employers are right to be cautious given the lack of data on the long-term effects of e-cigarettes and thinks it could give employees the wrong message.
Dr Nathanson said: "They are designed to look like smoking so what they do is they renormalise the concept of smoking, just at a time when we've all got used to the fact that smoking in the workplace is not normal nor allowed."
The Electronic Cigarette Industry Trade Association is arguing that employers should consider allowing staff to use them at work.
President Katherine Devlin told BBC Radio 5 live: "it depends on the situation and whether you are in a customer-facing role.
"It should be regarded in exactly the same way as having a cup of coffee on your desk at work. If that is allowed in your workplace, then e-cigarettes should be allowed too."