Abu Qatada case: Keith Vaz urges action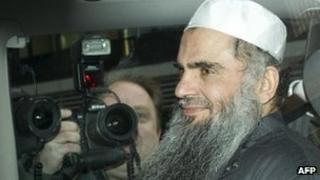 Tuesday's release of Muslim cleric Abu Qatada on bail after he won an appeal against deportation is "farcical" and ministers must work with Jordan to overturn the decision, Keith Vaz says.
Abu Qatada's lawyers told the Special Immigration Appeals Commission he would not get a fair trial in Jordan, where he is accused of bomb plots.
Mr Vaz said the UK must persuade Jordan to strengthen its criminal code.
The home affairs committee chairman said the case had cost taxpayers £1m.
Abu Qatada, whose real name is Omar Othman, has been in detention in the UK for seven years.
He will be released from Long Lartin prison, in Worcestershire, on Tuesday, subject to bail conditions including being allowed out of his house only between 08:00 and 16:00, having to wear an electronic tag, and being restricted in who he meets.
Home Secretary Theresa May has branded the ruling "deeply unsatisfactory" and has said the government will try to appeal against the decision.
Criminal code
"At the moment, it looks pretty farcical that a very dangerous man is now put on bail having gone through the court system for seven years and having cost the taxpayer £1m," Mr Vaz told BBC News.
Earlier this year, judges at the European Court in Strasbourg ruled he would not face ill-treatment if returned to Jordan, citing assurances outlined in a UK-Jordan agreement.
But crucially, the judge did not believe he would get a fair trial because a Jordanian court could use evidence against Abu Qatada that had been obtained from the torture of others.
On Monday, despite the UK obtaining additional assurances from Jordan, Mr Justice Mitting ruled he was not satisfied Abu Qatada would be tried fairly.
Mr Vaz added: "What we need to do is study the judgement carefully and to try to persuade the Jordanians to do the only thing that the courts wanted them to which is to strengthen the Jordanian criminal code."
He said the king of Jordan would be visiting the UK later this month, which gave the government "an opportunity to try and persuade him to go that little bit further in terms of the way the criminal code of Jordan operates".
He praised the government's "huge amount of work" in gaining Jordanian assurances but said it was "clearly not enough for the courts and therefore we do need to go that step further".
Lib Dem MP Julian Huppert said it was "a very surprising ruling" adding that, while it was "right that judges make these calls", it was "hard to see what more could have been done".
'Disappointment and concern'
Addressing the Commons earlier, Mrs May said: "The British government has obtained from the Jordanian government assurances, not just in relation to the treatment of Qatada himself, but about the quality of the legal processes that would be followed throughout his trial.
"We will therefore seek leave to appeal today's decision."
She was urged by Conservative MPs Peter Bone and Jason McCartney to defy the courts and put Abu Qatada on a plane back to Jordan.
Mr Bone said politicians as well as "the British people say he should be deported - just deport him and worry about the consequences after".
Mr McCartney, meanwhile, asked: "What would the sanctions actually be if we prioritised national security and just put Abu Qatada on a plane back to Jordan?"
Mrs May replied that "anybody who had anything to do with putting him on the plane would be breaking the law".
"That's why we won't be doing that - it would be breaking the law," she added.
Jordan, meanwhile, said it shared the British government's "disappointment and concern" over the ruling adding that it would "definitely study this ruling carefully with them to see what steps we can take".