Charity donations down 20%, says UK Giving 2012 report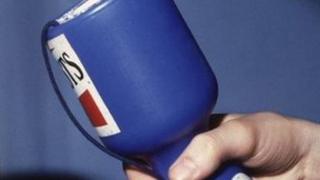 Donations to charity have fallen by 20% in real terms in the past year, with £1.7bn less being given, says a report.
The amount fell from £11bn to £9.3bn in 2011/12 - a fall of £2.3bn when adjusted for inflation, the study said.
The number of people donating fell - as did the amounts they gave, from an average of £11 to £10 a month.
The report, based on a survey of 3,000 people, was compiled by the Charities Aid Foundation and the National Council for Voluntary Organisations.
The CAF and NCVO said Britain remained a "generous and compassionate society", but charities were nonetheless facing a "deeply worrying" financial situation.
"Some are having to close front-line services. And some are having to make redundancies. We are painfully aware that some face closure."
It said it suspected small and medium sized charities were being disproportionately affected by the reductions in giving.
The charity KIDS, which supports disabled children across England, said it had to lose 44 staff last year, after being hit by both the public spending cuts and a fall in donations.
It tried to protect frontline services and the biggest losses were in central office staff, it said - "but this then has knock-on effect as it both affects our ability to fundraise and makes it very difficult for overstretched staff when the unexpected happens."
Cash most common
The fall in giving is the largest one-year decline in the survey of individual giving's eight-year history, and the total given is the smallest in real terms since the survey began.
The report found that 28.4 million people gave to charity during 2011/12 - more than half of all UK adults.
But the proportion of those donating in a typical month fell from 58% to 55%.
A larger proportion of women (58%) than men (52%) gave to charity.
Women aged 45-64 and above 65 were the groups most likely to give, with the youngest adults, aged 16-24, the least likely to give.
By category, "religious causes" received the largest percentage of donations, being given 17% of all money donated.
Medical research and hospitals received 15% each of all money donated, with children's charities receiving 11% and "overseas" 10%. Animal charities got 5%.
Cash remained the most common method of giving, with half of donors using this method, followed by direct debit (31%), buying goods (25%) and buying raffle tickets (22%).
Only 5% and 3% of donors gave using membership fees/subscriptions and payroll giving.
CAF chief executive John Low said the fall in giving was "deeply worrying" for those charities which rely on donations to provide vital frontline services.
"Combined with public spending cuts, this represents a potentially severe blow for many charities.
"If donations continue to fall, many charities will face profound difficulties carrying on their work and the people and communities they serve will suffer."
The research did not try to establish why less is being given to charity, but Mr Low said: "Cash is tight for everyone and people are finding it harder and harder to find money to give to charity."
Affordable loans
NCVO chief executive Sir Stuart Etherington said: "Charities are already being squeezed by greater needs, cuts in funding and rising costs.
"If I could ask one thing, I'd ask people to commit to regular donations through direct debit, and give using Gift Aid, so charities can plan properly.
"We cannot afford to lose the services charities provide."
The two bodies called on the government to modernise Gift Aid and to ensure that public bodies did not disproportionately cut funding for charities when seeking budget savings.
A government spokesman said it was working to stimulate giving through initiatives such as new tax incentives, match-funding, its transition fund, and Big Society Capital.
He said the government gave significant support through the tax system and was also introducing a new Gift Aid small donations scheme. It was making it easier for charities to claim Gift Aid, and had proposals for the reform of payroll giving.
The survey was carried out by the Office for National Statistics, and collected information from adults aged 16 and over in Great Britain. The survey, part of its Omnibus survey, is run three times a year and carried out face-to-face in people's homes.