Man bailed over Charles and Camilla 'royal attack plan'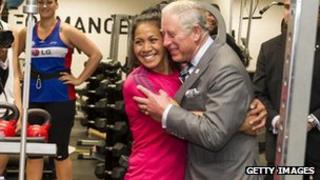 A man has been bailed by a New Zealand court for allegedly planning to attack the Prince of Wales and Duchess of Cornwall.
Sam Bracanov was charged with planning to throw horse manure at the visiting royals.
The 76-year-old "known anti-royalist" was ordered to stay at least 500 metres (550 yards) away from the royal couple as part of his bail conditions.
Charles and Camilla are in New Zealand on a seven-day Diamond Jubilee tour.
Bracanov was ordered to re-appear at the Auckland District Court later this month.
Police said he was detained on Monday about an hour before the couple arrived at Auckland quayside to meet well-wishers.
In a statement on the New Zealand Police website said the man - from the Mangere suburb of Auckland - was "charged with preparing to commit a crime, namely assault".
It continued: "Arresting officers had identified the man as a known anti-royalist who was, when arrested, at a royal itinerary venue although neither of the royal visitors was in the vicinity at the time."
Bracanov was convicted and fined for spraying air fresheners at Prince Charles to "remove the stink of royalty" during a previous visit to Auckland in 1994.
A small group of protesters held up placards during the walkabout on Monday, one of which read "Get a Job Royal Bludgers", a New Zealand slang term for someone who avoids work.
Prince Charles and the duchess had earlier met some of the country's top sportsmen and women at a national sports centre in Auckland.
Damp cheek
Rugby sevens player Linda Itunu dispensed with royal protocol and embraced Prince Charles, and was hugged back by the heir to the throne.
When they parted, Ms Itunu - who had been lifting weights in the gym - wiped her sweat off the side of the prince's face and apologised to the royal for leaving him a little damp.
She also urged the prince to support the New Zealand rugby side, the All Blacks: "I told him he better be supporting us - not England," she said.
During the tour of the sports facilities, the royal couple also tried their hand at netball, shooting several times but failing to score.
New Zealand netball player Maria Tutaia joked that the prince's shooting "needs some work".
She added: "It was good he had a go and nice to see him speak to all the athletes as he went round."
After meeting well-wishers during a quayside walkabout, Prince Charles and Camilla learnt about a special project to create a woollen rug featuring the prince's coat-of-arms.
The royal couple then toured an exhibition of wool products, including rugs, scarves and carpets.
In a speech the prince, who was wearing a double breasted suit made from New Zealand wool, said: "I don't know if you also realise, according to GQ magazine I am a fashion icon.
"I am a walking demonstration of the ability of New Zealand wool to disguise a rapidly disintegrating and ageing body," he joked.
The couple finished their day with a black-tie dinner to raise funds for the Queen Elizabeth II Diamond Jubilee Trust.
New Zealand Prime Minister John Key and classical singer Dame Kiri Te Kanawa topped the guest list of notable Kiwis.