Abu Qatada deportation ruling awaited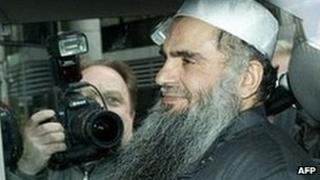 Judges are to give their ruling on whether the radical cleric, Abu Qatada, can be deported to Jordan where he is accused of plotting bomb attacks.
The European Court of Human Rights had earlier blocked Abu Qatada's removal because of concerns evidence obtained by torture would be used against him.
Home Secretary Theresa May says she has been assured this will not happen.
The ruling will come from judges at the Special Immigration Appeals Commission (Siac), a semi-secret court.
It deals with national security deportations where some of the sensitive material cannot be disclosed in public.
Abu Qatada's lawyers dispute Mrs May's claims over torture-based evidence not being used, however.
The cleric faces a re-trial in Jordan for allegedly conspiring to cause explosions on Western and Israeli targets in 1998 and 1999.
Siac was told the Jordanian constitution now banned the use of material obtained as a result of torturing witnesses.
According to the BBC's home affairs correspondent, Danny Shaw, whoever loses the case is expected to seek a further hearing at the Court of Appeal - though the grounds for an appeal are likely to be limited.
Abu Qatada is considered to be one of the most influential supporters of violent jihad in Europe.
The Palestinian-born Jordanian preacher has been described as the spiritual leader of the mujahideen and security chiefs say that he played a key ideological role in spreading support for suicide bombings.
He has been subject to lengthy periods of detention since 2001 although he has never been charged with a crime in the UK.
In January, the European Court of Human Rights ruled that the preacher would not face ill-treatment if returned to Jordan. The Strasbourg judges said that a special UK-Jordan agreement over Abu Qatada's treatment, called a Memorandum of Understanding (MOU), was sound and met European standards of humane treatment.
But the judges said they did not believe he would get a fair trial because a Jordanian court could use evidence against Abu Qatada that had been obtained from the torture of others.
Mrs May said she obtained additional assurances, covering how Abu Qatada will be tried, leading to the case returning to Siac.
In May, Abu Qatada lost an appeal against his detention after a judge said it was too risky to let him out of jail because MI5 and the police had to devote their resources to the Olympic and Paralympic Games in London.