UK soldier killed in Afghanistan 'insider attack'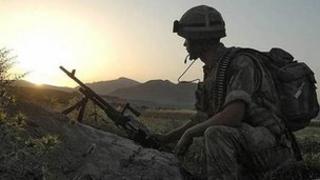 A British soldier has been shot dead by an individual wearing an Afghan army uniform, the Ministry of Defence said.
The incident was an "insider attack" at Patrol Base Shawqat in the Nad-e Ali area of Helmand province, the MoD said. The soldier's family has been informed.
The soldier was serving with The Royal Scots Borderers, 1st Battalion The Royal Regiment of Scotland (1 Scots).
A total of 438 members of the UK military have died in Afghanistan since operations started in 2001.
BBC defence correspondent Caroline Wyatt says there is little doubt Sunday's attacker was an Afghan soldier who had been training with British forces. 1 Scots are the group within the Army mentoring and advising the Afghans at a shared base in Nad-e Ali.
Our correspondent said: "The circumstances of the shooting are not clear. They are being investigated at the moment.
"The attacker was a member of the army, he was using his weapon which he had been issued with.
"This was inside a joint base where they work very closely together. That means living side-by-side, sleeping in very close quarters although there is a dividing wall... and they have to be close to them to do their job," she added.
Our correspondent also understands from Afghan sources, that the attacker's brother may have been involved in a separate attack on separate Nato soldiers in a different province of Afghanistan.
This latest incident - carried out on Remembrance Sunday - means the number of British servicemen killed by Afghan soldiers or police stands at 12 this year, compared with one in 2011, three in 2010, and five in 2009.
It is the third insider attack in three weeks, and of the six killed who were from this brigade, five have been killed by their allies.
On 24 October, Marine Cpl David O'Connor, of 40 Commando, and Army medic Cpl Channing Day, of 3 Medical Regiment, were shot in Nahr-e Saraj district of Helmand province in a suspected insider attack by an off-duty Afghan policeman.
Four days later, Lt Edward Drummond-Baxter and L/Cpl Siddhanta Kunwar, both of 1st Battalion The Royal Gurkha Rifles, attached to 40 Commando Royal Marines, were shot by a man wearing an Afghan police uniform while on patrol in Nahr-e Saraj.
Across the Nato coalition, more than 60 soldiers have been killed so far this year by their Afghan colleagues in such "green-on-blue" attacks.
The incidents have prompted questions about security in Afghanistan after 2014, when responsibility is due to be handed over to local military.
The Afghan government and Nato have put a number of measures in place to try to stop these attacks, including the deployment of hundreds of Afghan intelligence officers to monitor the behaviour of soldiers and recruits.
Spokesman for Task Force Helmand, Major Laurence Roche, said: "This is incredibly sad news for the Battalion and everyone serving in Task Force Helmand.
"As we mark Remembrance this weekend, our thoughts now turn to the soldier's family and friends whose loss is so much greater than ours".