Newspaper review: Enstwistle's resignation dominates papers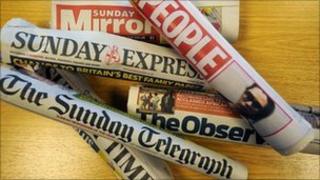 Many Sunday papers had to re-jig their front pages to take account of BBC director general George Entwistle's resignation on Saturday night.
"Out of touch. Out of his depth. Out of a job", is the main headline in the Independent on Sunday.
It is not alone in pinpointing Mr Entwistle's interview with John Humphrys on the Today programme as the point of no return for the now ex-director general.
A number carry transcripts of the exchange. The Independent says Mr Entwistle was humiliated.
In the view of the Sunday Express, he was "mauled live on air".
The Sunday Telegraph says the interview exposed a lack of knowledge that made for deeply embarrassing listening.
BBC 'bloodbath'
The Sunday Times prints a graphic in which Mr Entwistle represents each of the three wise monkeys. In this case, it's "see no Newsnight", "hear no rumours", and "speak no sense".
The paper says he had lost the confidence of the BBC chairman, Lord Patten, whose own position the Times believes is also now under threat because of his handling of the crisis.
The Mail on Sunday speaks of a "bloodbath at the BBC", with more heads tipped to roll.
The paper says that sources at the highest level of government believe that the positions of several other BBC executives are untenable.
It names them as Helen Boaden, the head of news; Peter Rippon, the editor of Newsnight; and Adrian van Klaveren, the executive overseeing Newsnight when the programme covered the north Wales child abuse scandal.
That broadcast led to a former senior Conservative figure, Lord McAlpine, being wrongly implicated.
The Sun on Sunday's headline - playing on the BBC's initials - reads simply "Bye Bye Chump".
It refers to the director general as "Gormless George" and "Bungling Entwistle".
Tree research
Away from events at the BBC, the papers are concerned about the fate of the nation's trees in the face of ash dieback disease.
According to the Times, scientists have taken cuttings and seeds from so-called super-ash trees found on the estates of Prince Charles and other landowners, which may be resistant.
The Telegraph highlights the case of an SAS sniper who has been sentenced to 18 months in military detention for possessing a pistol which was presented to him by the Iraqi army for outstanding service.
The Conservative MP, Nadine Dorries, is accused of insulting war heroes by the Sunday Mirror.
It says she is missing a Remembrance Day service in her constituency to appear in the ITV show, I'm a Celebrity Get Me out of Here.