Supreme Court judges to consider Iraq damages ruling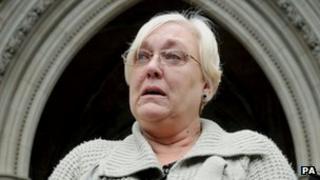 The UK's most senior judges are to decide whether relatives of soldiers killed in Iraq can sue the government for damages under human rights law.
Three soldiers' relatives are taking their fight to the Supreme Court after a ruling by the Court of Appeal last month that such a case was not allowed.
Afterwards one mother said the Ministry of Defence's attitude was "dismissive".
Seven judges will now hear the appeal over three days from 18 February next year, a Supreme Court spokesman said.
The judgment in the case is expected to be reserved, he said.
Last month, the Court of Appeal ruled that two killed soldiers' relatives could claim for damages for negligence, but appeal judges threw out three claims for damages under human rights legislation.
Its judgement focused on two areas - whether the MoD owes a duty of care to soldiers who are killed or injured on the battlefield and whether soldiers serving on operations abroad fall within the Human Rights Act.
'Make a stand'
Susan Smith, 51, whose 21-year-old son Pte Philip Hewett was killed in July 2005 after a Snatch Land Rover was blown up, expressed her anger outside the London court after the ruling.
"It is just so dismissive. It 'doesn't matter': they are Action Men; if you break them, just bury them. But they are not just Action Men. People need to make a stand," said Mrs Smith, of Tamworth, Staffordshire, at the time.
The other human rights cases rejected by the appeal court involved Pte Lee Ellis, 23, of Wythenshawe, Greater Manchester, who died after his Snatch Land Rover was attacked in February 2006, and Lance Cpl Kirk Redpath, 22, of Romford, east London, who was killed in a similar explosion in August 2007.
The US-led invasion of Iraq took place in 2003, leading to the Iraq War. The war officially ended in December last year when the US completed its withdrawal of military personnel.