Newspaper review: Papers reflect on BBC 'crisis'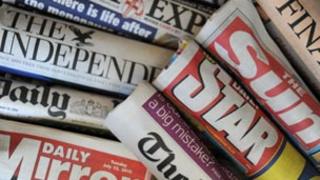 The papers discuss more controversy at the BBC, which in the words of the Daily Telegraph is "mired in a fresh crisis".
This comes after a report on Newsnight which led to the former Conservative treasurer, Lord McAlpine, being wrongly implicated in the child abuse scandal at care homes in north Wales.
The BBC has apologised "unreservedly" after a witness - interviewed for the programme - admitted that he had mistakenly identified the peer.
The Telegraph says it raises questions about whether Newsnight rushed into running a sensitive abuse story in an attempt to rebuild credibility after the controversy over the scrapping of its investigation into Jimmy Savile.
Medical sale
The Guardian and the Daily Mail both speak of the BBC in turmoil.
The Times says director general George Entwistle, and the chairman of the BBC Trust, Lord Patten, will be asked for explanations when they are called once again before MPs on the Commons Culture Media and Sport Committee.
The Right Reverend Justin Welby generally made a good impression when he made his debut as the newly-appointed Archbishop of Canterbury on Friday.
The Independent says Dr Welby delivered an "assured and self-deprecating performance" at his first news conference.
The Guardian reports that five family doctors have become millionaires from the sale of an out-of-hours service that they originally founded as a GPs' cooperative.
According to the paper, it has been bought by one of Britain's biggest private health companies for £48m.
The news that the director of the CIA has resigned because of an extra-marital affair is reported on the front of the Financial Times.
Describing David Petraeus as the "most decorated and respected US soldier of his generation," the FT says his announcement came as a shock and just days after President Obama's election victory.
Corrie star tribute
On the eve of Remembrance Sunday, the Mail laments that the graves of many of Britain's bravest soldiers are crumbling and neglected.
In the paper's words, it is a national scandal that the graves of about 1,000 holders of the Victoria Cross are in terrible repair.
The plots are often those of men who died more than a century ago - and whose descendants have moved away.
The front of the Daily Mirror is devoted to a tribute to the Coronation Street actor, Bill Tarmey, who's died at the age of 71.
The paper says he kept millions of people entertained for 30 years with his warm and amusing portrayal of the roguish and beer-supping Jack Duckworth, describing him as a true British treasure.