UK food delegation on China dairy trade promotion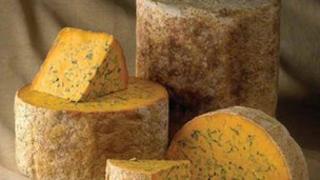 UK dairy producers will be in China this week in a bid to boost trade with the world's biggest grocery market.
China's food business is worth £38bn a year and the consumption of more Western-style produce, including milk, cheese, and yogurt, is rising.
Producers of tea, desserts, beer, meat, and sweets will also be among the 45 firms in a delegation headed by UK Environment Secretary Owen Paterson.
UK food and drink exports to China totalled £174m in 2011.
As well as attending the Food and Hotel China Exhibition in the country's most populous city Shanghai, Mr Paterson will hold meetings with local dairy companies, trade associations, industry experts and retailers.
'Taste for dairy'
The environment secretary said there was an opportunity for UK producers to "significantly expand" dairy exports as other EU countries are restricted by milk quotas until 2015.
"From chocolate to cheddar, China's population is getting a taste for dairy, and Britain's world-class food industry can supply that demand," Mr Paterson said.
"China's dairy consumption is increasing because of changing lifestyles and diet, and there is a window of opportunity while domestic production cannot meet this demand."
According to dairy food producers on the trip, the market for their products in China is being driven by middle class young professionals.
Many have been educated abroad and are familiar with western products. It has also been helped by Chinese government efforts to stimulate diets in rural areas.
Elsa Fairbanks, Food and Drink Exporters Association, has noticed the change in consumer tastes.
"The dairy industry is a new but growing market," she said.
"I have been stunned by how much dairy there is in Shanghai compared with 12 months ago - there are coffee houses, ice cream parlours, frozen yoghurt bars," she said, noting that the market in UHT milk drinks is also growing.
Stephen Jones, managing director of Somerset-based cheese-exporting firm Somerdale International, hopes to boost the value of his annual exports to China from its current £20,000.
Mr Jones says the trick is promoting flavoured cheeses tailored to Chinese tastes.
"They like mild cheddars, and also the blended white stiltons that are quite sweet - with mango, cranberry, ginger and lemon," he said.
But he adds: "The hurdle for British business is the Chinese bureaucracy. It can take eight months sometimes to get your product tested and approved.
"They're not familiar with some ingredients and labelling also has to be approved."
Claire Urry, from the China-Britain Business Council, urges companies to take advantage of the "potential".
"It's very competitive out there and it all depends on how much resource UK companies can put in to trading in China," she said.
"The profile of the Chinese shopping mall is changing. There are more bakeries and coffee shop chains going in, which has led to more Chinese chains popping up. And those types of outlets use dairy."
Chinese food expert and chef Fuchsia Dunlop says historically dairy products were not part of the diet because soya and tofu have provided much of the same nutrition.
She said: "Now many Chinese parents feed their babies and children milk - it's regarded as good. But other dairy products, such as butter are still not as popular - people really hardly ever cook with it - and it's not used in Chinese cooking."