Government plans to increase speed limit for HGVs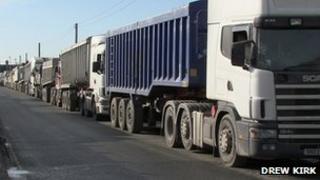 The speed limit for larger lorries could be increased, ministers say.
The current limit on single carriageways for heavy goods vehicles (HGVs) over 7.5 tonnes is 40mph - but this could be raised to 45mph or 50mph.
Roads minister Stephen Hammond said less congestion and quicker journeys would help business but a road safety charity said it was "very concerned".
Consultation on the change, which would affect about 280,000 vehicles, will run until 1 February.
Mr Hammond said the government was "committed to doing everything it can to improve conditions for economic growth" and claimed the change would boost businesses by more than £30m a year.
But he added: "I want to make sure we have carefully considered the evidence of all of the effects on the economy, environment and - of course - road safety before we make a decision. I welcome views from all."
Road rage
AA president Edmund King said: "Drivers will generally support this proposed change as a common sense move.
"Slower lorries can lead to tailbacks, dangerous overtaking and road rage.
"Freer-flowing traffic will benefit road safety by reducing dangerous overtaking and benefit the environment by reducing emissions."
Neil Greig, director of policy and research at the Institute of Advanced Motorists, said: "We welcome the consultation on new speed limits for lorries.
"On many long-distance rural roads, platooning behind lorries who are sticking to the limit is often blamed for causing frustration and dangerous overtaking.
"Ideally this change should be introduced in a series of trials and pilots first so that the real impact can be assessed before the change is made permanent."
But Julie Townsend, deputy chief executive of road safety charity Brake, said: "We are very concerned about these proposals.
"There is a clearly evidenced, direct link between traffic speed and the number of devastating crashes and casualties on our roads.
Speed risks
"When vehicles travel just a few miles an hour faster, it significantly increases stopping distances, reducing drivers' ability to react in an emergency.
"Lower speed limits are in place for HGVs for good reason: because of their size and weight these vehicles take longer to stop and if they do crash it's more likely to be on a catastrophic scale.
"Given the rise in deaths and injuries last year on UK roads, the government should focus its efforts on bringing casualties down through evidenced means, such as reinforcing and enforcing vital safety laws like speed limits.
"Preventing road crashes and casualties not only prevents appalling pain and suffering, but also benefits the economy by reducing the significant costs to the taxpayer and businesses that result from crashes."
HGVs over 7.5 tonnes are currently allowed to travel at 30mph in built-up areas, 40mph on single carriageways, 50mph on dual carriageways and 60mph on motorways.
The limits for goods vehicles between 3.5 tonnes and 7.5 tonnes will remain unchanged - 30 in built up areas, 50 on single carriageways, 60 on dual carriageways and 70 on motorways.