Lord McAlpine says abuse claims false and defamatory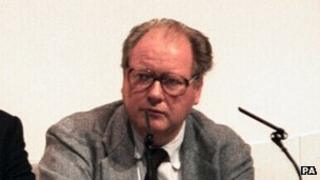 Claims linking Lord McAlpine to alleged historical child abuse are "wholly false and seriously defamatory", the Conservative peer has said.
He issued his denial after saying he had been named on the internet and by implication by other media over claims relating to a Wrexham children's home.
The former party treasurer, 70, said he had visited Wrexham only once and had never been to the home.
He said he wanted to "tackle these slurs and set the record straight".
Lord McAlpine said that, in doing so, he had not given up his right to sue those who had defamed him and he would take all steps considered necessary to protect his interests.
His denial comes after former Bryn Estyn resident Steve Messham claimed on the BBC's Newsnight that he had been abused by a senior politician of the Thatcher era, who was not named.
Lord McAlpine said: "I have never been to the children's home in Wrexham, nor have I ever visited any children's home, reform school or any other institution of a similar nature.
"I have never stayed in a hotel in or near Wrexham, I did not own a Rolls-Royce, have never had a 'Gold card' or 'Harrods card' and never wear aftershave, all of which have been alleged.
"I did not sexually abuse Mr Messham or any other residents of the children's home in Wrexham."
'Mistaken identity'
Lord McAlpine, whose grandfather founded the McAlpine construction firm, is a life peer who took the title of Baron McAlpine of West Green in Hampshire.
He became Conservative Party Treasurer in the late 1970s and held the post until 1990. He now lives in Italy.
He said there had been a "media frenzy" surrounding the child abuse allegations in Wales and "ill- or uninformed commentators" had used the internet to accuse him of something he had not done.
Some newspapers on Friday reported that the peer had been a victim of mistaken identity.
In his statement, Lord McAlpine, a father-of-three who has been married three times, said he was not accusing Mr Messham of acting maliciously but he insisted he was "mistaken and that he has identified the wrong person".
"I have every sympathy for Mr Messham and for the many other young people who were sexually abused when they were residents of the children's home in Wrexham," said Lord McAlpine.
He said any form of child abuse was "abhorrent" and he had "absolutely no sympathy" for the adults who committed crimes at the home.
"Those who have been convicted were deservedly punished and those who have not yet been brought to justice should be as soon as possible," he said.
Lord McAlpine said that on his one visit to Wrexham he had gone to the local Constituency Conservative Association in his then-capacity as deputy chairman of the party. He said he was accompanied on this trip by Stuart Newman, a Central Office agent, who has since died.
Lord McAlpine said he would be "entirely willing" to meet police to be eliminated from their inquiries.
'Cast aspersions'
David Cameron said he had not had time to read Lord McAlpine's statement in detail, but said the issue highlighted his concerns about how paedophilia accusations were dealt with.
"We do have to be very careful before casting aspersions against individuals or bandying people's names around, as was done yesterday, without any evidence," he said.
On Thursday, the prime minister said he feared a "witch-hunt" by those commenting online about child abuse allegations.
He was commenting on ITV1's This Morning programme after being unexpectedly handed a list of names of people whom the show's presenter said were being mentioned online as paedophiles.
Presenter Phillip Schofield, who said he had based the list on internet speculation, has been criticised for his actions during the live interview which had been addressing historical claims of a paedophile ring linked to No 10.
TV regulator Ofcom said it had received complaints about the programme and Number 10 has called the list, which Mr Cameron did not look at, a "silly stunt".
The north Wales abuse scandal re-emerged last week after Mr Messham called for a new investigation claiming a report by Sir Ronald Waterhouse in 2000 had not uncovered the full scale of the abuse.
On Tuesday, Home Secretary Theresa May announced a new police inquiry is to investigate fresh allegations into the way police handled child abuse accusations in care homes during the 1970s and 80s.
There will also be a judicial inquiry into the failings of previous judicial inquiries.
Meanwhile, Flintshire Council chief executive Colin Everett said north Wales councils would publish a shelved 1996 report into the abuse claims if legal advice allowed it.
He said a north Wales council was likely to have a copy of the Jillings report, which was never made public because of legal concerns.