Prominent Conservatives urge 'genuinely independent' press regulation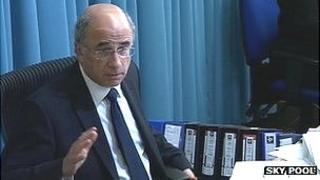 More than 40 Tory MPs and peers are calling for an independent system of press regulation to be introduced.
They say the Leveson Inquiry into press ethics has exposed "fundamental weaknesses" in the current system of self-regulation.
The group has written to the Guardian highlighting its concerns.
Lord Justice Leveson's inquiry was set up in the wake of the phone-hacking scandal, and is due to publish its findings within weeks.
The group includes former cabinet ministers Sir Malcolm Rifkind, Caroline Spelman and Lord Fowler.
Unstable model
It is calling for a cross-party response to the Leveson Inquiry - to deliver what it calls a "genuinely independent system" that the public can trust.
The letter suggests that should include some form of statutory underpinning for press regulation.
It adds that, to be credible, any new regulator must be independent of the press and politicians.
The newspaper industry has proposed the formation of a new body with the power to launch investigations and levy fines of up to £1m.
The plan would preserve self-regulation, and rely on legally enforceable contracts to bind publishers to the new system and ensure funding.
But the letter from the Tories says those measures risk being an "unstable model destined to fail".
Worst excesses
It says: "The worst excesses of the press have stemmed from the fact that the public interest defence has been too elastic and, all too often, has meant whatever editors wanted it to mean.
"To protect both robust journalism and the public, it is now essential to establish a single standard for assessing the public interest test, which can be applied independently and consistently."
The letter also says the inquiry represents a "once-in-a-generation opportunity to put things right."
Stratford-upon-Avon MP Nadhim Zahawi, who signed the letter, told BBC Radio 4's Today programme he is "instinctively opposed" to statutory press regulation.
But he added: "I sat on the joint committee that looked at privacy and super-injunctions and the evidence there made me change my mind."
Mr Zahawi said a new regulator would not have to be "invasive", and he cited the Legal Services Board and the Advertising Standards Authority as positive examples in other fields.
"We don't have all the answers and we want to wait to see what Leveson actually recommends, but one of the ideas is... an independent, strengthened Press Complaints Commission (PCC) with investigative powers, with resources to do those investigations and reprimand powers."
The strengthened PCC could also have an "arbitral arm", Mr Zahawi said.
"If there has been rule breaking or bad behaviour by a journalist in terms of stretching the public interest argument, they can go to arbitration which would then be underpinned by statute," he said.
But Fraser Nelson, editor of The Spectator magazine, said it was not possible to have "a press with a little bit of state regulation".
"As soon as the regulatory device is there, no matter how small, it can be expanded later on," he said.
"What Nadhim describes sounds fairly innocuous, but from the moment the government has got its hands on a free press or has inserted itself in the regulatory regime, it knows there is something there that can be ratcheted up and it will send a chilling effect throughout the press.
'A bad step'
"In fact it already has. Already I, as an editor, am getting MPs and ministers calling me up to order that I discipline writers who displease them or take articles down in a way that they wouldn't have even a year ago because the feeling is going around amongst politicians that now, finally, they are going to get their say in how the press should behave in Britain. That is not a good step for British liberty."
The Leveson Inquiry was set up after allegations of widespread wrongdoing by the press, including the hacking of missing schoolgirl Milly Dowler's mobile phone by the News of the World.
It heard from politicians, celebrities, media figures, police and others over an eight-month period.
Lord Justice Leveson is due to make recommendations on the future regulation of the press and conduct between the press, politicians and police.
David Cameron has committed himself to implementing these.