MPs to debate delaying January fuel duty rise until April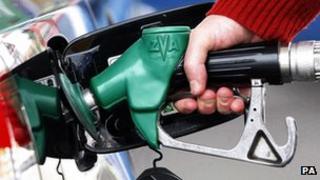 Labour is to force a Commons vote on Monday that it hopes will lead to the postponement of a planned 3p per litre rise in fuel duty in January.
Shadow chancellor Ed Balls revealed the bid to delay the rise for at least three months in a message on a political website.
He said putting off the increase would ease pressure on households.
The Treasury said the postponement of earlier planned duty rises had already helped keep fuel costs down.
Writing on the PoliticsHome website, Mr Balls argued that a strong economic recovery was not yet secure and families, pensioners and businesses were still feeling the squeeze.
Tax avoidance
Postponing the planned 3p rise until at least April could be paid for, he believes, by clamping down on tax avoidance schemes used by employment agencies.
"There is a growing problem with some employment agencies forcing workers to become employees of an umbrella company," he wrote.
"They then falsely inflate the worker's travel and food expense claims, reducing tax and national insurance, and pocket the avoided tax as profits.
Mr Balls said: "Even if only a proportion of that money was recouped it could pay for the fuel duty rise to be put off until next spring."
Labour will use one of its allotted opposition day debates in the Commons to force the vote, which is non-binding.
Pressure group the Taxpayers' Alliance launched a campaign earlier this year to have fuel duties frozen until 2015.
Another campaign group, FairFuelUK, claims that allowing the 3p tax rise to go ahead in January could lead to 35,000 job losses, and hit economic growth.
The duty increase was originally to be introduced last August, but in June Chancellor George Osborne announced that he was postponing it for five months.
At the time Mr Osborne told the Commons the delay was being funded by what he called "larger-than-forecast savings in departmental budgets."
The Treasury said fuel was currently 10p cheaper than it would have been if the earlier increases in duty had not been postponed.