Cycle safety should be 'legacy of the Games' - Dave Brailsford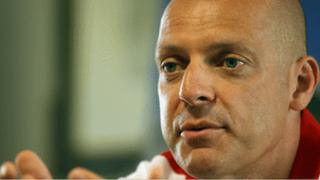 A greater awareness of cycle safety should be "a legacy" of the Olympic Games, the performance director of British Cycling has said.
Dave Brailsford told the BBC that drivers must understand "how vulnerable [cyclists] can be on the roads".
It comes after Olympic gold medallist Bradley Wiggins was injured after colliding with a car on Wednesday.
Then on Thursday, GB cycling head coach Shane Sutton, was involved in road accident while cycling near Manchester.
Figures from the Department for Transport show that 107 cyclists were killed on Britain's roads last year, down slightly from 111 in 2010.
Speaking to BBC Radio 5 live, Mr Brailsford said it was necessary for elite cyclists to train on the roads, and that safety was "an issue".
"It's very rare that we have too many accidents... on a day to day basis, but we've got to put safety first and I think we would encourage our riders to ride as safely as possible.
"Maybe a legacy of the Games could be a greater awareness and understanding of cycle safety and just how vulnerable they can be on the roads."
In hospital
The cycling director said that injuries suffered by Wiggins - bruising to his ribs and hands - should not have any lasting impact on his winter training.
The 2012 Tour de France winner collided with a car near a petrol station in the village of Wrightington, near Wigan, at around 18:00 GMT on Wednesday and was kept in hospital overnight as a precaution.
Injuries to Mr Sutton, however, were more serious. It is likely he will spend several days in Salford Royal hospital after being diagnosed with a small bleed on his brain following a crash near Manchester.
The Australian-born coach collided with a Peugeot 206 driven by a 61-year-old man on the A6 in Levenshulme shortly before 09:00 GMT on Thursday.
A British Cycling spokesman said: "Cycling is not an intrinsically dangerous activity but there is much more to be done to improve conditions for cyclists on the roads.
"We are calling on the Government to put cycling at the heart of transport policy to ensure that cycle safety is built into the design of all new roads, junctions and transport projects, rather than being an afterthought."
Mr Brailsford said the fact that his coaching colleague was wearing a helmet "probably saved him".
"He [Mr Sutton] phoned the office today and sounded a bit dazed but he's tough, I'm sure he'll make a full recovery and be back before we know it," Mr Brailsford added.
The president of the AA, Edmund King, said that motorists have to be "more vigilant" and added the majority of drivers want more cycle lanes.
"The irony is most cyclists are also drivers and a lot of drivers are also cyclists. It appears when they get into one form of transport the mentality and the attitudes change," he said.
'Close calls'
Paralympic cycling medallist Jody Cundy echoed calls for greater awareness of cycle safety, saying training on the roads is often "heart in the mouth stuff".
He told the BBC: "I have so many close calls each week.
"You'd be hard pressed to keep a tally of how many it's been with people cutting you up at junctions, or overtaking and then going past, near misses a lot of the time... It's almost become part and parcel of the course."
Mr Brailsford has called on cyclists to ensure that they wear bright clothing, a helmet and fit lights to their bikes when cycling, especially in the winter months.
He advised cyclists to try and "anticipate the movement of traffic and the decisions other traffic users will be making" in an attempt to stay safe.
"For anybody starting out in our sport the ability to second-think everything around you and try and pre-empt any dangerous situations around you... would be a key thing in terms of safety.
"Most cyclists own cars and a lot of car drivers cycle so it's a case of mutual respect.