Fire services count the cost of rescuing obese people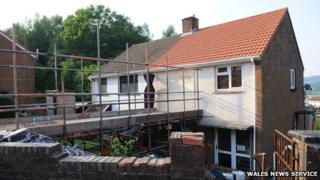 UK fire and rescue services have responded to over 2,700 calls over the past five years to assist severely obese people.
A single incident can cost several thousand pounds and cases include people who have got stuck in the bath.
Some fire services say they will now only respond when a person needs urgent medical attention.
The Chief Fire Officers Association says the fire services' ethos is to assist people in distress or at risk.
A Freedom of Information (FOI) request submitted by the BBC's 5 live Investigates programme revealed that fire crews were called to more than 2,700 incidents over a five-year period between the financial years of 2007/2008 and 2011/2012.
Out of 58 fire and rescue services in the UK, 53 responded, with South Wales Fire and Rescue Service attending the most calls - a total of 189.
The FOI request also revealed the high costs incurred by responding to calls to assist severely obese people - one three-and-a-half hour rescue carried out by Northern Ireland Fire and Rescue Service (NIFRS) cost over £11,000.
The total cost incurred by NIFRS between 2007/2008 and 2011/2012, to respond to 119 such calls, was £313,000 - the highest figure reported in the FOI data.
In England the most expensive single incident was £5,000, borne by Hereford and Worcester Fire and Rescue Service.
London, South Yorkshire and West Midlands fire and rescue services all incurred costs of over £50,000 over 5 years.
While the FOI request revealed over 2,700 incidents across the UK, it is likely the total is even higher, as some fire services have not kept records on this type of incident.
New obesity category
However, in April 2012 a new category relating to obese people was created for the Incident Reporting System used by fire and rescue services in England.
The rescue of a "bariatric person" - as severely obese people are categorised on the system - was added at the request of fire officers.
Paul Mason from Ipswich was involved in an eight-hour long rescue when he needed to be moved to hospital for surgery on a hernia.
His weight was such that he had not left his home for two years. The front wall of his flat had to be knocked down and a fork lift truck was needed to get him out.
"I am embarrassed about it, yes," he told 5 live Investigates.
"I thought 'why are they doing it for me?' My esteem, the way I thought about myself, was non-existent.
"My eating disorder was way out of control, my depression was severe, and I just didn't want to get to grips with my life or sort myself out in those days."
Mr Mason has subsequently lost 40 stone from a peak weight of more than 70 stone. He says he understands critics who say that such rescues should not be the responsibility of the fire brigade, but argues that the NHS should be more pro-active in helping obese people.
"In this country we have a policy where we treat people whatever problems they've got. It took a situation like that for me to realise how bad I got myself."
"The on-going cost of looking after somebody is expensive - the treatment they could give you outweighs that cost."
Last year the NHS carried out more than 8,000 weight loss operations, sometimes called bariatric surgery, and the number is rising by about 10% a year.
However, it is not just medical emergencies which fire services are having to respond to on a regular basis.
Fife Fire and Rescue Service in east Scotland revealed that it has been called to help obese members of the public who have fallen out of bed.
Tayside's firefighters have assisted a number of people who have been stuck in the bath, as well as helping undertakers who have been unable to move bodies because of their size.
The increase in the number of calls has prompted some fire services to reconsider their approach to responding to calls from severely obese people.
"This year three of our firefighters received muscle strain while attempting to remove a bariatric patient from a home," says Alan Kernohan, area manager for County Durham and Darlington Fire and Rescue Service.
"So, we are reviewing our procedures and equipment for dealing with this kind of rescue.
"We will respond immediately if anyone is in need of urgent medical attention - but in a non-emergency situation, then we will make a risk assessment and discuss the outcomes with the ambulance service or any other agency who has requested our help," Mr Kernohan told the BBC.
There is no single policy for the UK's fire and rescue services, but some already charge for assisting severely obese people.
The person requesting assistance - or, more usually, the local ambulance service - can be billed at an hourly rate for each fire engine mobilised.
Northamptonshire Fire and Rescue Service, for example, charges £630 per hour - although some services contacted by 5 live Investigates do not charge, nor keep any record of the costs incurred from calls to aid obese people.
The Chief Fire Officers Association says many UK fire and rescue services have developed protocols for attendance at bariatric assists with local ambulance trusts.
In a statement it said: "Our firefighters respond professionally to a variety of challenges and continue to provide a world class emergency service."
Listen to the full report on 5 live Investigates on BBC Radio 5 live on Sunday, 11 November at 21:00 GMT. Listen again via the 5 live website or 5 live Investigates podcast.