Newspaper review: fallout from Tory MP's appearance on jungle TV show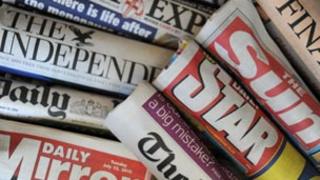 The Independent is one of several papers which considers the decision by Conservative MP Nadine Dorries to appear on the reality TV show, I'm a Celebrity, Get Me Out of Here.
Its Parliamentary sketch writer Donald Macintyre describes how the issue overshadowed Prime Minister's Questions in the Commons on Wednesday.
The appraisal of the MP's situation in the Daily Mirror is: "She has not set foot in the jungle yet, but under-fire Nadine Dorries already faces a fight for her political survival."
The Guardian believes that the "snakes and creepers of parliament" will have prepared her well for the show.
The Daily Mail leads with allegations that a surgeon carried out needless or botched operations on more than 1,000 women who were told they had breast cancer.
The paper says Ian Paterson, who worked across the Midlands, has been suspended and faces a police investigation.
The Times describes the "alarm" on Wall Street at the prospect of political deadlock in America.
The paper says Barack Obama's victory was followed by plunging share prices.
The Financial Times says the president is braced for emergency negotiations with Congress over planned tax rises and spending cuts which could send the US economy into recession.
Comments by the boss of Ryanair, that seatbelts on aircraft are pointless, are reported in the Daily Telegraph.
Michael O'Leary is quoted describing officials who insist on people belting up as "plonkers".
The Daily Express says a simple new blood test for diabetes could help save thousands of lives.
It says the test can predict who is at risk of diabetes up to a decade before the disease strikes, allowing them to take preventative action.
The Sun leads on the road accident in which British cyclist Bradley Wiggins was knocked off his bike.
It reveals that the crash happened days after the Tour de France winner shaved off his "lucky" sideburns.
The Daily Mirror explains how a City commodities trader ran up a bar bill of over £40,000.
It says the unidentified trader treated nine friends to a night out on Halloween at Raffles club in Chelsea.
The Daily Mail and other papers publish pictures of the Prince of Wales and the Duchess of Cornwall holding rescued koalas during their visit to Australia.
The Mail suggests that Prince Charles knew beforehand of the marsupial's reputation for a weak bladder when he joked: "something ominous will run down".