Arrest over 'cyber-attack' on Theresa May and Home Office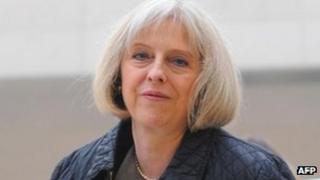 A man has been arrested over an alleged cyber-attack on the websites of Home Secretary Theresa May and the Home Office, Scotland Yard has said.
The 41-year old was arrested at his home in Stoke-on-Trent, Staffs, on suspicion of encouraging a distributed denial of service (DDoS) attack.
Police suspect he tried to overwhelm the websites, causing them to crash.
It is believed he targeted Mrs May's constituency websites and allegedly urged others to join the attack.
The man was arrested on suspicion of assisting or encouraging crime contrary to the Serious Crime Act 2007 and bailed until mid-December.
A DDoS attack floods a webserver with so many requests that it can no longer respond to legitimate users.
The Metropolitan Police said computers, telephones and media storage devices were among items seized from his home.
Det Insp Jason Tunn said: "Assisting and encouraging cyber crime is a serious matter and I would advise all persons to consider their actions and any possible future consequences prior to posting any material online."
The Home Office said they did not wish to comment on the arrest.