Council pensions 'may give billions for housing'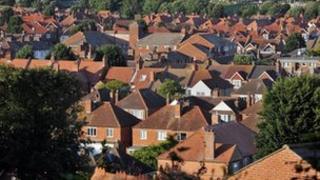 Local Government pension schemes may be allowed to invest up to £22.5bn extra in homes, roads and other forms of infrastructure, ministers have said
Communities Secretary Eric Pickles said there was a "huge investment opportunity" to boost the economy and ease the housing shortage.
Currently a maximum of 15% of the £150bn in local government pension funds can go to infrastructure.
The government's consultation will look at increasing this to 30%.
This would take the largest possible investment from £22.5bn to £45bn.
Shortfall
The existing rule is supposed to ensure that the funds have a diverse range of assets, so protecting the ultimate value of the pensions.
BBC local government correspondent Mike Sergeant said councils were likely to welcome the principle of freeing pension funds to invest in projects that benefit communities and create jobs, but there were still many issues to resolve.
One key question was whether investing in infrastructure would actually give the funds the steady, secure returns they need, he added.
A report published last month by the Future Homes Commission, set up by the Royal Institute of British Architects, said a possible 100,000 to 300,000 homes could be built in the UK every year using council pension funds.
Another report, released last year by the Institute for Public Policy Research, predicted a shortfall of 750,000 homes in England by 2025.