Northolt Royal Mail sorting office damaged by fire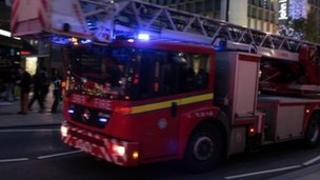 A fire at a Royal Mail sorting office in Northolt, west London, has destroyed the building's loading bay, the London Fire Brigade said.
The blaze at the premises on Mandeville Road was reported at 16:26 GMT on Monday.
The brigade said there was slight damage to the sorting office building, and four vehicles were also damaged.
The blaze was attended by four fire engines - two from Northolt station and two from Southall.
Police have said the cause of the fire was not connected to any bonfire night activity.