Cyprus soldier death accused appear in court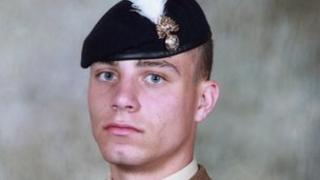 Three UK tourists accused of murdering a British soldier have appeared in court in Cyprus.
David Lee Collins, 19, from Manchester, served with 2nd Battalion, Royal Regiment of Fusiliers. His family has been informed.
He was stabbed to death in a nightclub in the resort of Ayia Napa.
A local police spokesman said the three men, two aged 17 and one aged 19, had been remanded in custody for eight days by Famagusta District Court.
He added they had not been formally charged with the murder and would be detained while detectives investigated the incident.
Kevin Speake, head of year at Mr Collins's former school of St Antony's Catholic College in Manchester, said the school was "devastated" to hear of his death.
"During his time at St Antony's, he developed into a thoroughly well mannered and polite pupil who, from a young age, spoke of his desire and determination to join the Army.
"He succeeded in fulfilling those dreams, and the college is immensely proud of the role he played. Our prayers at this time are for David, his family and all those who knew him."
The UK's Ministry of Defence has banned soldiers from Ayia Napa's centre after past trouble. The town is a popular destination for young holidaymakers.
The two British military bases in the former colony, which gained independence in 1960, are home to more than 3,000 personnel.
The dead soldier is reported to have been stationed at the base in Dhekelia, about 12 miles (20km) west of Ayia Napa.
Police spokesman George Economou said the soldier had been pronounced dead on arrival at Famagusta General Hospital in Paralimni. A knife has been recovered and is undergoing forensic tests.