Jimmy Savile: 40 damage claims launched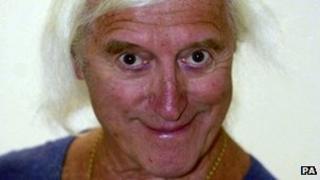 More than 40 damages claims by alleged victims of Jimmy Savile are to be launched against his estate, three other public bodies and the BBC.
Russell Jones & Walker has sent the BBC, Leeds General Infirmary, Stoke Mandeville and Broadmoor hospitals and NatWest "letters before action".
The bank, executor to the BBC DJ's £4m estate, has frozen his account.
Meanwhile, Savile's name is to be removed from the list of honorary freemen of the borough of Scarborough.
Russell Jones & Walker is acting for 36 people aged from eight to 23 when they were allegedly abused.
Liz Dux, a partner at the firm and an expert in personal injury and child abuse cases, said cases were "still coming in by the day".
Law firm Pannone has also sent letters of claim to Savile's estate, on behalf of a further seven alleged victims, one of whom is also taking action against the BBC.
Pannone is investigating a further 42 allegations.
Councillors in Scarborough have said Savile's name should be removed from the honour list as a gesture of support to his alleged victims.
He was awarded the accolade in 2005 to celebrate his links with the North Yorkshire resort, where he owned a second home and was buried.
Conservative councillor Tom Fox, who proposed the motion, said: "This council wishes to send its heartfelt support to, and acknowledge the courage of, those who have come forward having suffered horrendous abuse at the hands of the alleged serial predatory sexual offender Sir Jimmy Savile."
Police believe Savile, who died last year aged 84, could have abused as many as 300 people over a 40-year period.
They have described him as a "predatory sex offender" and are following 400 lines of inquiry.