Broadcaster backs BBC against Jimmy Savile 'witch-hunt'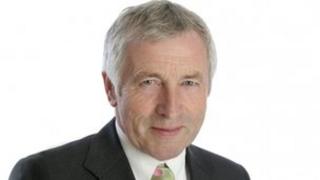 There has been a "disturbing relish" in the way critics have laid into the BBC over the Jimmy Savile sex abuse scandal, Jonathan Dimbleby has said.
The broadcaster told the Times newspaper there has been a "witch-hunt" against the corporation, which had become "horribly out of proportion".
"The real focus should be on what Savile did wrong," Mr Dimbleby said.
It was "very distressing" that people at the BBC were being "hounded" in a way that was "unwarranted", he added.
Presenter Mr Dimbleby, who first worked at the BBC in the late 1960s, said: "Paedophilia is a huge national problem that no-one thought about 50 years ago and is now something that concerns everyone, but this has become a witch-hunt against the BBC.
"Organisations that have come under flak recently such as newspapers and MPs want to get their revenge. They think the BBC is too smug and holier-than-thou.
"But there is a disturbing relish in the way the critics have laid into the BBC, holding today's office-holders to account for what happened 30 years ago," he told the paper.
Other historical allegations of abuse have since come to light in the wake of the Savile allegations.
A victim of child sex abuse in north Wales has told BBC Newsnight that his abusers included a leading Thatcher-era Conservative politician, and called for a new investigation.
On Saturday, the Sun newspaper claimed that actor Leonard Rossiter, who died in 1984, watched an 18-year-old extra in a BBC play being sexually assaulted in a rehearsal room.
The BBC said it could not comment on individual cases, but asked "anyone with allegations of this nature to report them to the BBC's Investigation Unit or the police directly".
"As this has already happened in this case, the BBC will help the police in any way that it can in the course of any investigation," a spokeswoman said.
Independent review
Police believe former BBC presenter and DJ Savile, who died last year aged 84, could have abused as many as 300 people over a 40-year period.
They have described him as a "predatory sex offender" and are following 400 lines of inquiry.
On Friday, comedian Freddie Starr was released on bail after being arrested on Thursday and questioned twice by police.
Mr Starr, of Warwickshire, 69, was arrested under Operation Yewtree on suspicion of sexual offences and has been bailed until December. He denies claims he groped a girl of 14 while in a BBC dressing room with Savile.
Police say Mr Starr's arrest falls under the strand of the investigation classed as "Savile and others".
On Sunday, ex-pop star Gary Glitter was arrested and bailed after being questioned as part of the inquiry.
Glitter, 68, whose real name is Paul Gadd, was arrested at home and questioned at a London police station before being released on bail until mid-December.
Meanwhile, Savile's estate, the BBC and three other organisations are facing the prospect of legal action.
Liz Dux, from law firm Russell, Jones and Walker, said letters had been sent to the Savile estate, Stoke Mandeville Hospital, Broadmoor, Leeds General Infirmary and the BBC saying 20 clients who claim they were abused by the late presenter are considering legal action.
An independent review into BBC Newsnight's dropping of a programme about the allegations against Savile will report later this month.
Led by ex-Sky News boss Nick Pollard, it will seek to establish whether there were any "failings" in the decision to drop the Newsnight investigation.
Correction 10 November 2012: The BBC has apologised unreservedly for broadcasting a report on Newsnight on 2 November over allegations of child abuse which transpired to have involved a case of mistaken identity. As a result the video of the original report has been removed from the website. More details can be found here.