Freddie Starr released on police bail after further questioning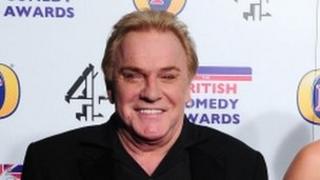 Freddie Starr has been released on bail for a second time after further questioning by police investigating the Jimmy Savile sexual abuse scandal.
Mr Starr, of Warwickshire, was arrested under Operation Yewtree on Thursday on suspicion of sexual offences.
The entertainer has denied claims that he groped a girl of 14 while in a BBC dressing room with Savile.
Meanwhile, Savile's estate, the BBC and three other organisations are facing the prospect of legal action.
Mr Starr, 69, returned to speak to officers after being bailed in the early hours of Friday. The Metropolitan Police said he had been re-bailed to a date in December.
Independent review
Police say Mr Starr's arrest falls under the strand of the investigation classed as "Savile and others".
Scotland Yard said Mr Starr had returned while on bail and was being questioned for a second time.
He had been arrested on Thursday at 17:45 GMT before being released on bail between 01:00 and 01:30 GMT on Friday.
Police believe former BBC presenter and DJ Savile, who died last year aged 84, could have abused as many as 300 people over a 40-year period.
They have described him as a "predatory sex offender" and are following 400 lines of inquiry.
On Sunday, ex-pop star Gary Glitter was arrested and bailed after being questioned as part of the inquiry.
Glitter, 68, whose real name is Paul Gadd, was arrested at home and questioned at a London police station before being released on bail until mid-December.
Liz Dux, from law firm Russell, Jones and Walker, said letters had been sent to the Savile estate, Stoke Mandeville Hospital, Broadmoor, Leeds General Infirmary and the BBC saying 20 clients who claim they were abused by the late presenter are considering legal action.
Meanwhile, an independent review into BBC Newsnight's dropping of a programme about the allegations against Savile will report later this month.
Led by ex-Sky News boss Nick Pollard, it will seek to establish whether there were any "failings" in the decision to drop the Newsnight investigation.