Egypt terror threat level raised by UK Foreign Office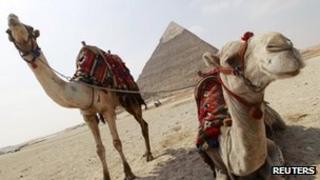 The UK's Foreign Office has raised its terror threat level for Egypt from "general" to "high".
It follows reports of an al-Qaeda plot to attack Western holidaymakers, foiled by Egyptian police in northern Sinai close to the border with Gaza.
The Foreign Office said there was now a "high threat of terrorism throughout Egypt, including the Sinai".
But its travel advice for tourists staying at the well-guarded resorts in Sharm el-Sheikh is unchanged.
It said the situation there was calm and stable.
But it warned Britons not to stray outside these areas into Sinai where there had been hijackings and kidnappings.
The Foreign Office said in its assessment for Egypt that there was a "high risk of attacks".
Last month, Egypt reopened one of its great pyramids as it attempts to revive a tourism industry hit by 2011's uprising.
Antiquities Minister Muhammad Ibrahim reopened the Pyramid of Chefren and six ancient tombs at Giza after a long restoration project.
He said at the time he was keen to stress that Egypt was a safe country for tourists.
Visitor numbers to Egypt have only just begun to pick up after the country's revolution.