Golden postboxes to keep their sheen to honour British athletes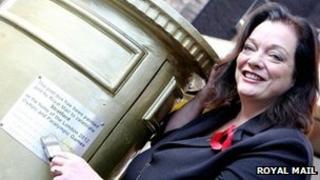 The 110 postboxes repainted to celebrate Britain's Olympic and Paralympic champions are to remain gold on a permanent basis.
Royal Mail has announced that each box is to have a plaque fitted, naming the athlete in whose honour it was painted.
It is the first time in the company's history that the traditional red box colour has been changed permanently to mark a historic achievement.
Royal Mail said the boxes had become "cherished local landmarks".
The first plaque has been attached to the golden postbox in Stratford, east London, home to the London 2012 Olympic Park.
It was unveiled by the MP for West Ham, Lyn Brown, on Thursday.
Postboxes have been repainted gold in the UK in the hometowns of every gold medal-winning Team GB Olympic and Paralympic athlete.
Royal Mail said the golden boxes had attracted thousands of visitors, and pictures of the boxes have been posted to social media websites.
The most northerly golden postbox can be found in Lossiemouth, Moray, in honour of rower Heather Stanning.
Meanwhile, a golden postbox in honour of her rowing partner, Helen Glover, is the most southerly on the British mainland and can be found in Penzance, Cornwall.
Moya Greene, chief executive of Royal Mail Group, said she was "delighted" at the success of "this simple idea".
She added: "The gold postboxes gave communities even more opportunity to mark the successes of Team GB and Paralympics GB - and became a part of local celebrations of London 2012 across the UK.
"I am pleased to confirm that these postboxes will be kept gold permanently."
Royal Mail also produced stamps to celebrate each gold medal, which are available to purchase until the end of the year.