Gambling addict tells of fight to save family life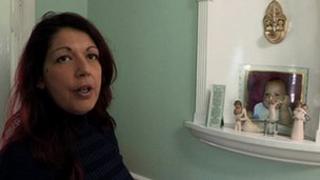 About 43% of us will have gambled in the past week and the vast majority do so without any issues, but for some, it can lead to a powerful and destructive addiction.
As a young woman Keelin Carroll had worked as a croupier in a casino.
Later in life, she spent many Sunday evenings at her local bingo hall in Surrey with her mother or sister.
But when Keelin's eldest son died at 13 months old, her world fell apart and she turned to gambling.
"When Ethan died I just felt completely lost," she says. "When it was quiet in the house my mind would start whirring and I couldn't cope with the emotions that came into my head. I felt I needed to escape."
Keelin's gambling began to spiral.
She would spend hours in the local arcades and stay on after bingo on Sunday evenings to gamble on the slot machines for up to five hours at a time.
"Within days I had been to the bank and taken out a loan of a few thousand pounds," she told Panorama, "I just needed to lose myself for a little while, to numb the pain.
"I couldn't cope. I really wasn't coping at all."
Obsession
The last national survey of our gambling habits found there were about 451,000 problem gamblers in Britain.
Unlike alcoholism or drug addiction, gambling - often referred to as a hidden addiction - presents no obvious physical symptoms.
Prof Jim Orford is a psychologist at the University of Birmingham who studies gambling.
"We know that gambling can be addictive," he says, "Anybody can be affected by it. It begins in a small way and builds up to the point at which people can be totally preoccupied with it.
"It is a genuine mental health problem."
Panorama spoke to several problem gamblers, addicted to everything from scratch cards to online slot machines, and high stakes gaming terminals.
One gambler, who did not wish to be identified, said he had lost his partner, job and now feared losing his house because of his gambling debts.
He now lives as a virtual recluse, gambling online to try to win back some of his losses.
According to the 2010 British Gambling Prevalence Survey, most problem gamblers are men, but a growing number of women are also gambling more than they can afford.
Prof Orford says that for the addict, gambling is no longer about winning.
"By the time people get compulsive about their gambling, they're not enjoying it. They're torn in two. They're dependant on it and getting something psychological from it, but they know it's ruining their life in certain ways."
In the seven years since Ethan's death, Keelin has had two more children.
She says she managed to hold family life together.
"I would just be a normal mother in the day. We did story time, bath time, bedtime - and then once they were in bed, that would be my time."
Keelin says her addiction became so overwhelming she contemplated suicide.
"I couldn't control myself," she says, "I couldn't stop. I just felt so low. I thought, 'I could just drive into that wall and I could just finish it'."
According to Prof Orford, problem gambling is associated with a higher suicide rate than that of the general population.
Constant battle
Keelin eventually sought help for her addiction via GamCare, the national charity for people struggling with problem gambling.
"I'm fighting this addiction for me and for my children. My children are my world, and I want to set a good example to them."
Last year GamCare offered face-to-face counselling to 2,639 people. But there are areas of the UK GamCare services do not yet reach, including Cornwall and large parts of Wales.
Some experts believe more resources are needed to tackle the problem.
Mark Griffiths is professor of gambling studies at Nottingham Trent University. He helped found GamCare in 1997.
"We know that there are over 200 Gamblers Anonymous groups," says Prof Griffiths.
"We know that there are 50,000 people ringing the GamCare helpline. And we know that's probably just the tip of the iceberg," he adds.
Research into and treatment for problem gambling is funded by voluntary contributions from the gambling industry.
Last year those contributions amounted to 0.1% of the industry's annual takings.
Back in Surrey, Keelin has not gambled for nearly 18 months, and after a year of counselling has regained control of her life.
She is keen to tell others that help is available.
"I think I'll be fighting this addiction for the rest of my life," she says.
Panorama: Gambling Nation is on BBC One, Monday, 5 November at 20:30 GMT and then available in the UK only on the BBC iPlayer.