NSPCC issues parental advice over signs of abuse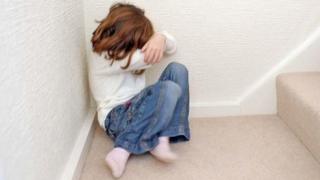 The NSPCC has issued new guidance for parents to help them spot the signs of sexual abuse in children.
The charity says it has brought forward publication of the guide because of the number of calls it has received since allegations of abuse against Jimmy Savile emerged.
It says that since then it has received a 60% increase in calls expressing concern that a child is being abused.
The charity also says most abusers are someone "close to the child".
More than a third of current calls to the NSPCC about child sexual abuse are made by the child's own parent.
Research suggests 80% of such offences take place in the home of either the offender or the victim.
Relationship advice
The guide points out that parents are key to reporting sexual abuse, because the signs are less obvious than physical assaults and neglect, where neighbours or teachers may notice bruises or marks.
And it advises that children who start using objects and toys in a sexual way, become clingy and withdrawn, or develop an inexplicable fear of people or places may have a problem.
It also gives advice to parents on how to tell the difference between an adult who forms a close, but normal, relationship with a child and an inappropriate one.
John Cameron, head of the NSPCC's helpline, said: "As a parent, knowing or suspecting your child is being sexually abused can be incredibly traumatic.
"But to protect children, people need to act and we provide sensitive professional help and support. Even if they feel they have dealt with the situation themselves and their child is safe, other children may still be at risk from the abuser.
"When parents or others report abuse, whether it's the NSPCC, children's services or the police, professionals will work with them to protect the child, help them overcome the abuse and bring the abuser to justice."
The NSPCC's guidance for parents and carers - What can I do? Protecting your child from sexual abuse - is available to download from the charity's website.