Serious Fraud Office payments to ex-CEO 'irregular'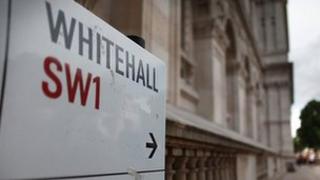 Pension and severance payments of £412,000 made to the former chief executive of the Serious Fraud Office (SFO) have been ruled as "irregular".
The National Audit Office said the payments to Phillippa Williamson were "made without proper authorisation".
As a result, the National Audit Office (NAO) said it was "qualifying" the SFO's annual accounts for 2011-12.
The SFO stressed that the payments were made under its current director's predecessor, Richard Alderman.
Ms Williamson took voluntary redundancy in April.
"Qualifying" accounts means the NAO did not approve the accounts as being spent in the way the money was intended by Parliament.
The head of the NAO, Amyas Morse, said: "By failing to seek approval from the Cabinet Office and the Treasury, the Serious Fraud Office entered into an agreement which forced it to make irregular payments.
"While positive steps have been taken by the incoming director, I have qualified the organisation's accounts."
'Astonished'
The NAO said there was no evidence that "due process" was followed when Ms Williamson instigated voluntary redundancy last April, such as determining whether any alternative position had been sought.
The SFO should have gained approval from the Cabinet Office for a payment of £407,000 to the company which administers the Civil Service pension scheme, but the NAO said there was no evidence that this happened.
There was also no evidence that approval was sought from the Treasury for a "special severance payment" of £15,000 which she received as it was "in excess of contractual amounts".
When David Green became SFO director in April, replacing Richard Alderman, he sought legal advice upon taking office which confirmed that her agreement with the SFO was legally binding.
He commissioned an independent review into the matter and took steps to ensure exit packages were appropriately reviewed in future.
"Upon learning of the exit terms he asked Treasury Solicitors Office to conduct a full independent inquiry," the SFO said in a statement.
"He took legal advice as to the enforceability of the agreement and notified the National Audit Office of his decision not to seek retrospective approval from HM Treasury of what he considered unjustified expenditure."
The chairman of the Commons Public Accounts Committee, Margaret Hodge, said she was "astonished" that the SFO had agreed to the severance payment to Ms Williamson.
"The SFO showed a total disregard for taxpayers' money when they wrote out a five-figure cheque to the CEO and failed to provide valid justification for the payment. The SFO also ignored Cabinet Office rules when signing off £407,000-worth of pension entitlements.
"My committee will want to see an immediate stop to unacceptable payments of this kind and for the SFO to ensure all future packages for those leaving the organisation are properly approved."