Prison population forecast falls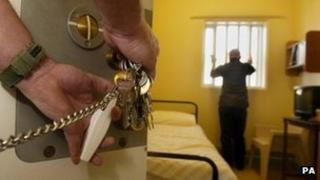 The prison population in England and Wales is projected to be lower than previously expected by 2017, according to the Ministry of Justice.
MoJ predictions suggest the number of people in jail could rise from about 86,500 to up to 90,300 by June 2017.
This is nearly 5,000 lower than last year's estimate that the jail population could hit 94,800.
The MoJ said the fall was largely due to the decline in the number of cases dealt with by courts last year.
It also cited changes to sentencing policies in the Legal Aid, Sentencing and Punishment of Offenders Act.
However, the MoJ warned that the projections were "subject to significant uncertainty".
In August, the Prison Reform Trust said two-thirds of prisons in England and Wales were overcrowded.
The campaign group said there were 7,294 more people in the system than it was originally designed and built to hold.