Newspaper review: EU vote defeat makes headlines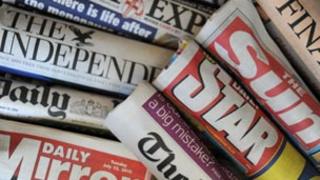 The government's defeat on the issue of the EU budget makes headlines across many editions of the newspapers.
Coming as it did on Halloween, the Sun labels it as David Cameron's "Europe Fright Night".
"Nightmare on Downing Street" is how the Independent' sister paper, I, sees it. "EU Loser!" says the Daily Mirror.
The Times's political sketch speaks of a Commons chamber that had been "hit by the parliamentary equivalent of Superstorm Sandy".
The Daily Telegraph welcomes the result, insisting that the Commons "has spoken for the nation" by taking a stand against what it calls the "profligacy and fiscal incontinence of the European Commission".
Storm fatalities
As America's east coast cleans up after Sandy, stories are emerging of the devastation the storm caused.
The Sun tells the tale of an off-duty police officer who was swept into his basement and electrocuted as he helped his family escape rising floodwaters at his home in Staten Island.
A woman tells the Daily Express how her elderly mother died in Manhattan when power cuts caused by the storm meant her oxygen pump stopped working.
The Times says scientists have developed a possible antidote to the fungal disease threatening Britain's ash tree population - but red tape is preventing it being put into action.
The paper says the treatment has been shown to prevent the spread of other tree diseases - but it has not been prioritised for testing against ash dieback disease.
The Independent says the manufacturer of a key test for cancer genes is being accused of failing to pass on information that could help scientists find new ways to diagnose and treat the disease.
The paper says academics are concerned that Myriad Genetics does not share data on gene mutations, because it holds the patents on the tests used to identify them.
Myriad Genetics is said to have been unavailable for comment.
Shaggy dog stories
A study picked up by the Daily Mail claims to have answered one of the crucial questions in the battle of the sexes - who has the higher pain threshold?
It says researchers at Leeds Metropolitan University have found that - despite women enduring the rigours of childbirth - men tolerate pain better.
They are less likely to complain about their suffering because of the need to appear masculine, the researchers say.
And Simon Callow may be best known for his roles in Shakespeare, Dickens, and Four Weddings and a Funeral but, according to the Telegraph, he is now the star of his own book at bedtime - for dogs.
The actor has lent his dulcet tones to an audiobook designed to "calm canine nerves" on Bonfire Night.
The story is said to use animal psychology techniques and relaxing speech patterns to help man's best friend sleep through the whizz and bang of the fireworks.