Jimmy Savile estate frozen after abuse claims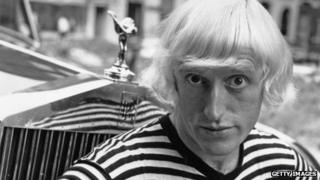 The estate of television presenter Jimmy Savile has been frozen in response to the sex abuse claims made against him, NatWest bank says.
The bank, which is acting as the late DJ's executor, said: "Given the claims raised, distribution of the estate has been put on hold."
Savile's estate is thought to be worth about £4m.
Lawyers representing alleged victims welcomed the decision. They are planning to sue for damages.
The Financial Times reports that it has obtained a copy of Savile's will, which left his savings and other assets to 26 separate beneficiaries.
Written in 2006, the FT reports, it instructs that £20,000 in cash was to be shared between 20 of his friends, family and neighbours. It says a further £600,000 was to be put into a trust fund, with the interest shared between eight people.
The remainder, just under £3.7m before expenses, was to be held by NatWest on behalf of the Jimmy Savile Charitable Trust, the newspaper said.
Alan Collins, from law firm Pannone which is representing some of the victims, said: "This is good news for those victims of Savile who are taking legal action, as it means that they will be able to pursue claims against the estate.
"If NatWest had not put the estate on hold, it would have meant legal action against Savile's estate to prevent the assets from being distributed amongst the beneficiaries of his will."
He added that the firm was also "actively pursuing inquiries" into Savile's overseas assets, which it believed were administered in Guernsey.
Lawyer Liz Dux, who is also representing victims, said in order to win damages the onus would be on the victims to prove their case.
"They have to prove on the balance of probabilities ... what happened to them and that will be forensically tested, there will be independent psychiatric reports for all of them and they will have to give evidence and satisfy the court that they're telling the truth," she said.
Meanwhile, an MP has said Savile's victims should be allowed to give anonymous evidence to the various inquiries being carried out into the allegations of sex abuse.
Lib Dem John Hemming said he was concerned about the effect of the investigations on those who had suffered.
He has tabled a Commons motion, which says while important that there is no cover up, those affected should be allowed to "feel supported and achieve closure given that Jimmy Savile will not be prosecuted".
Police believe the former BBC presenter and DJ, who died last year aged 84, could have abused as many as 300 people over a 40-year-period.
They have described Savile as a "predatory sex offender".
He is alleged to have carried out abuse on BBC premises, as well as at a number of other institutions such as the high security psychiatric hospital Broadmoor, Stoke Mandeville Hospital and Leeds General Infirmary.
The former BBC TV presenter and DJ, who was knighted in 1996, had been a household name since he presented the first edition of Top Of The Pops in 1964.