Jimmy Savile 'took girls on late-night hospital trips'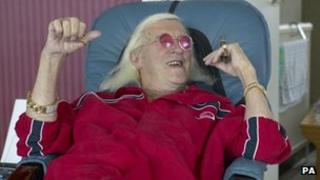 Jimmy Savile was regularly handed a key to a Leeds hospital building when he arrived with teenage girls, an ex-porter there has told the BBC.
Terry Pratt said Savile would arrive at Leeds General Infirmary in the early hours, take the girls to the nurses' accommodation and leave before dawn.
Leeds General Infirmary said there were no records of complaints against Savile during the time he was working there.
Police are probing claims the late TV star abused about 300 young people.
The hospital also said it continued to be "shocked by each new allegation" and was helping police with their investigation.
Savile, a TV presenter and DJ who rose to fame in the 60s, was well known at Leeds General Infirmary over many years as a volunteer and fundraiser.
In other developments:
Mr Pratt said he became suspicious when Savile began arriving in the middle of the night in the late 1980s with teenage girls who seemed "star-struck" and were "not very streetwise".
He said Savile would visit several times a month, with different girls, asking for the key to the accommodation block. He would arrive at about 01:00 or 02:00, spend a few hours there and drop the key back about 05:00, Mr Pratt added.
"He would go up and see the lad on the desk [and he would say] 'Here's the key, Jim, make sure I get it back.' He'd take the key and... would walk out and the two women would follow him towards the nurses' home," he told the BBC.
Mr Pratt said he did not report Savile's behaviour to anyone at the time but recently spoke of his concerns to a community police officer. He said he would be willing to speak further with police.
When asked why he did not raise the issue at the time, he said: "We daren't... we were in awe of him to be honest."
Earlier this month, a former Broadmoor Hospital patient claimed that Savile had keys to that hospital and was given his own room during the 1970s. He also alleged that he was abused by the entertainer.
The Department of Health is investigating and has appointed a former barrister to oversee its probes at Broadmoor, along with Stoke Mandeville Hospital and Leeds General Infirmary.
The investigation comes amid growing allegations that Savile sexually abused children at all three of the hospitals which he had raised funds for.
'Heads will roll'
Earlier this week it emerged that Savile was banned from any involvement with the BBC's Children in Need charity.
Sir Roger Jones, a former chairman of the charity and governor for BBC Wales, said he had heard rumours from London staff, and the charity decided not to allow Savile "anywhere near" it.
The Metropolitan Police are following 400 lines of inquiry as part of the investigation into claims Savile abused 300 children and young people over a period of six decades.
Savile, who presented Top of the Pops and Jim'll Fix It and was a former Radio 1 DJ, died last October aged 84.
A BBC inquiry into the culture and practices at the corporation in the era of alleged sexual abuse by Savile began on Monday.
The corporation is also looking at the decision-making process that saw a Newsnight investigation into Savile's activities shelved.