Golf trophies may be being targeted by silver thieves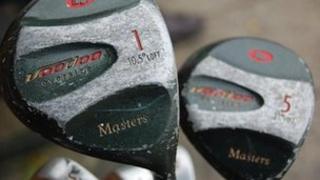 Police suspect thieves may be targeting silver golf trophies to sell on for scrap after hundreds were stolen in a series of raids at golf clubs.
There have been at least six break-ins across the south east of England over the past two months.
It is thought thieves who stole lead from church roofs and copper from rail lines have moved on to a new target.
BBC golf commentator Peter Alliss said the trophies were of "great value" to the clubs.
He also said it was a "great pity" they were being destroyed by thieves, adding that if a trophy "was worth £100", the thieves were "lucky to get £12 for it" once it had been melted down.
Among the premises to have suffered a break-in is Hindhead golf club in Surrey. Thieves recently broke in, smashed its display case and stole most of its trophies, just days before the club's presentation night was due to be held.
Carole Davison, club secretary at Hindhead, said she was "devastated" to see the damage that had been caused by the intruders.
"The police arrived within three minutes of the alarm bells being sounded, but they'd gone."
Thieves have also broken into nearby Farnham Golf Club and stolen trophies from there.
Police are now trying to establish if there was a connection between this burglary and others in the area.
Det Sgt Lee Hazel said there had been four such burglaries in Surrey, but police were as yet unsure if they were connected.
"Although we can't be certain, there is a strong possibility that the thieves are targeting the golf clubs in order to sell the metal to scrap dealers," he said.
"As the price of metal's been going up, we have seen a rise in these types of offences. Silver is expensive, and that's what's been targeted predominantly in these offences."
Police have also warned other golf clubs to be vigilant against possible break-ins.