Jimmy Savile scandal: Police did not question Duncroft staff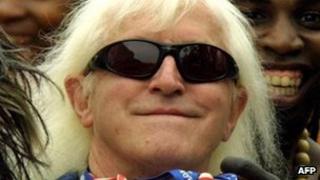 Former staff at the Duncroft Approved School were not questioned by Surrey Police during their 2007 inquiry into sex abuse claims against Jimmy Savile.
The force said it decided not to speak to workers unless there was proof that they had seen or knew about the abuse.
Three ex-residents at the home claimed to have been abused by Savile in the 1970s, but prosecutors found there was insufficient evidence to take action.
Police are probing claims the late TV star abused about 300 young people.
Earlier, former detective and child protection expert Mark Williams-Thomas claimed that Duncroft's head teacher at the time of the alleged abuse - Margaret Jones - was unaware of the police investigation until she read about it in the newspapers.
He tweeted: "Have spoken today to former Duncroft Headmistress who has told me that she was never contacted by police re. sex abuse by #jimmysavile."
Abuse 'not reported'
Mr Williams-Thomas presented the ITV1 documentary which brought the allegations against Savile into the public gaze.
He told the Daily Telegraph the 2007 investigation "offered the best opportunity to catch Savile".
He added: "It raises questions about why the one person who could have provided information was not spoken to.
"She [Ms Jones] could have provided important background information about the girls and Savile."
A spokeswoman for Surrey Police said officers had spoken to 22 former residents of the girls' school in 2007, and the children's charity Barnado's, which was running the home at the time of the allegations.
She said: "Barnardo's informed us they had no record of any allegations of sexual abuse reported to staff during this period.
"A decision was made not to interview former staff unless there was evidence to suggest they witnessed abuse or were made aware of abuse at the time.
"None of the former residents spoken to during the course of the investigation indicated staff witnessed abuse, and stated they had not reported abuse to any staff at the time," she added.
Savile - a television presenter and DJ - died on 29 October 2011, aged 84.
Scotland Yard are following 400 lines of inquiry as part of the investigation into claims he abused 300 children and young people over a 40-year period.
As part of these inquiries, ex-pop star Gary Glitter has been arrested and bailed on suspicion of sex offences.
Glitter, 68, whose real name is Paul Gadd, was arrested at home and questioned at a London police station on Sunday before being released on bail until mid-December.
A BBC inquiry into the culture and practices at the corporation in the era of alleged sexual abuse by Savile began on Monday.