UBS trader Kweku Adoboli tells court: 'I lost control'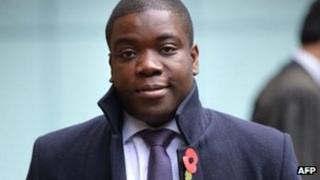 An alleged rogue trader accused of gambling away £1.4bn has told a jury how he "lost control in the maelstrom of the financial crisis".
Kweku Adoboli, 32, had set up an "umbrella" fund for off-book trades at Swiss bank UBS in London.
Southwark Crown Court heard the fund was doing well until he changed to a more aggressive, "bullish" position under pressure from senior managers.
Mr Adoboli denies two counts of fraud and four counts of false accounting.
These are alleged to have happened between October 2008 and September 2011.
Ghanaian-born Mr Adoboli, of Whitechapel, east London, is accused of committing Britain's biggest ever fraud.
'Push boundaries'
Mr Adoboli told the court: "The real problem was a result of the pressure to flip my position from short to long, this broke my control.
"I absolutely lost control, I was no longer in control of the decisions around the trades we were doing."
Mr Adoboli worked for UBS's global synthetic equities division, buying and selling exchange traded funds which track different types of stocks, bonds or commodities such as metals.
He claimed senior managers were fully aware of what he was doing and encouraged him to push the limits to make profits.
The court heard Yassine Bouhara, former co-head of equities at UBS, allegedly told Mr Adoboli in an email: "You don't know what your limits are until you push the boundary so far that you receive a slap on the back of the wrist."
Answering questions from defence barrister Paul Garlick QC, Mr Adoboli said: "There were no secrets, there was no hiding, there was no holding back.
"We were told to go for it, we went for it. We were told to push the boundaries, so we pushed the boundaries.
"We were told you wouldn't know where the limit of the boundary was until you got a slap on the back of the wrist.
"We found that boundary, we found the edge, we fell off and I got arrested."
The court has heard that at one point Mr Adoboli was at risk of causing the bank losses of $12bn (£7.5bn).
'Had an effect'
The jury was told that Mr Adoboli's initial, more conservative "bearish" position was mocked in an email from a fellow trader to UBS colleagues globally.
"Everyone was laughing about it," said Mr Adoboli.
"Obviously this is a trading floor, so my first response was to laugh about it too, but it had an effect on me."
Mr Adoboli told the court the stresses that built up as the losses increased in the summer of 2011 almost destroyed his relationship with his girlfriend.
"She was asking 'What is wrong?' but I couldn't explain and she said 'You need to talk to me and tell me what is wrong'," he said.
"I couldn't say anything, I curled up in a foetal position and then she walked out."
The trial continues.