Support for care teens in England a 'national scandal'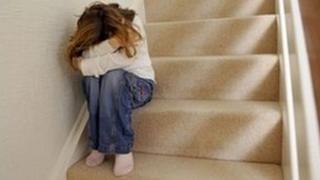 Too many teenagers in England leave care without enough support, ending up in a "trap of poverty and joblessness", the children's minister has said.
Edward Timpson said it was a "national scandal" and urged councils to do more to make sure they have a "solid start".
Mr Timpson wants such teenagers to be given higher allowances towards setting up home and more foster placements.
The Local Government Association says councils should not face new financial expectations at a time of drastic cuts.
Mr Timpson's comments come as figures suggest many 16-year-olds leaving care are not in education, work or training by age 19.
According to the figures cited by Mr Timpson, more than a third (35%) of children in care leave by the age 16 and, of those, 45% will not be in education, employment or training - so-called Neets - three years later.
Mr Timpson said the "cliff-edge" of leaving care was often too sudden and poorly planned, with many teenagers finding the move "traumatic".
'Something wrong'
"It is a still a national scandal that children in care are more likely to end up with worse exam results; to have poor mental and physical health; to be convicted criminals; and unemployed or out of education. These are the most vulnerable children in society who need the most support," he said.
The children's minister said he wanted councils to give care leavers a £2,000 allowance towards the expense of setting up home - some currently give "as little as" £500, meaning they cannot afford the essentials. He also said he wanted more foster placements for 18- to 21-year-olds.
He is writing to local authorities to say they need to do far more.
Mr Timpson said: "There is something very wrong when some of the most vulnerable children feel they are being forced out of care the moment they turn 16.
"Society has changed. Most young people are no longer ushered out the door by their parents to make their own way in the world. Care leavers are no different."
Mr Timpson is also set to launch a Children in Care Charter, drawn up by care leavers themselves, which sets out how they wanted to be treated.
But David Simmonds, chairman of the Local Government Association's children and young people board, said: "Of course there is more that can be done and we welcome the opportunity to work with care leavers and learn from their experiences, but the government cannot place new financial expectations on councils at a time when they are imposing drastic cuts.
"Councils know what works best in their local area and what level of financial support is required to help young people to thrive. A centrally imposed one-size-fits all approach is not the answer."
Debbie Jones, president of the Association of Directors of Children's Services, said she agreed with many of Mr Timpson's comments, but added: "The most important thing for us is what you do with young people actually before that cliff edge."
Speaking to BBC Radio 4's Today programme, she said: "The important thing - as with any good parent - is the support you give young people in terms of how the money is used.
"It's the support that counts. And most local authorities are actually spending a great deal more than £2,000 for their young people."